Are you tired of headphones disconnecting during your yoga routine? The days of earphones hanging all the way down to the top of your navel are gone.
Nowadays, wireless or smaller corded earphones are more efficient than longer earphones.
Some people enjoy listening to music, the news, lectures, podcasts, etc., when working out and having to constantly shove your long earphones out of the way can become annoying.
Long earphones can be pulled out by your movements or even fall out on their own and nobody wants to deal with that anymore.
Wireless earphones or earphones that have shorter cords are more efficient and seem to be the trend today. Not to mention, wireless earbuds or headphones are the most useful for anyone who enjoys working out, including yoga.
Some yogis do at-home yoga and listen to their yoga practice on an electronic device and benefit from earphones so they can hear the poses directly in their ears.
Some yogis go to studio yoga classes and still have earphones in to listen to their own music and just follow the instructor's movements. Walkmen and portable CD players are also a thing of the past.
Today people can connect their earphones to their phones or other electronic devices, which comes in handy during workouts.
There are different reasons why people use earphones during a workout and there are earphones for everyone. The following earphones are all equipped with a wide range of features, range in prices and check all of the boxes when looking for the perfect earphones for your workout.
Overall Recommendation: Jarba Elite Active 65t
– The overall top-pick is the
Jarba Elite Active 65t
. These headphones (i.e., the best wireless headphones for yoga) are comfortable, fit securely and are water-resistant, so they even work well for hot yoga class or cardio based routines that generate a lot of sweat.
Jabra Elite Active 65t - Truly Wireless Earbuds | Everything You Need Know!
The Best Earphones, Earbuds, and Wireless Headphones for Yoga (and Other Fitness Related Needs)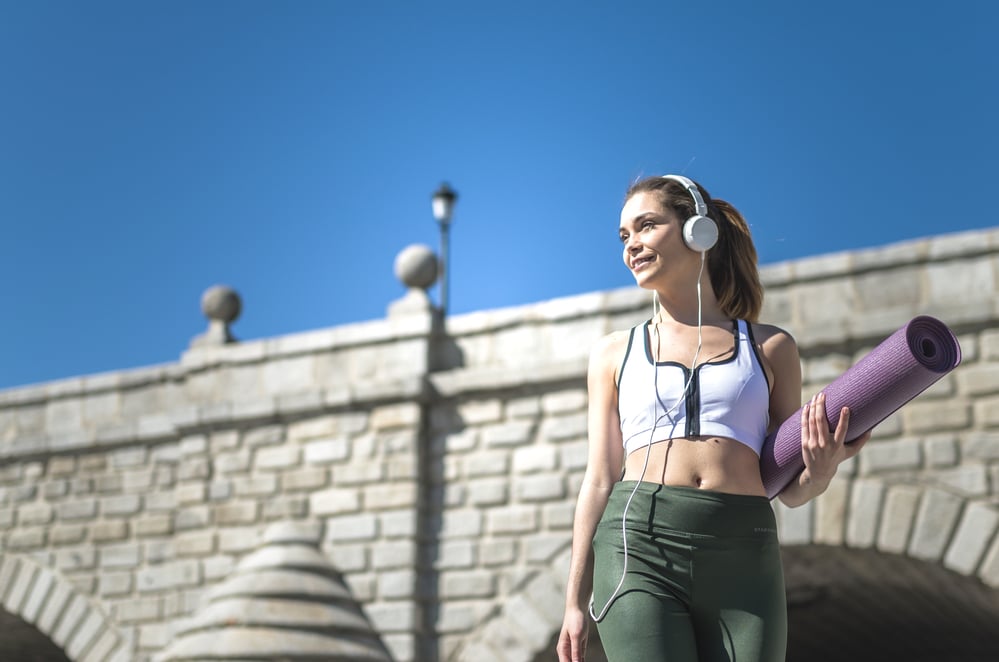 Inexpensive, Budget-Friendly Earphones
There are some yogis who are in search of inexpensive earphones for their at-home or studio yoga practices. This can be difficult sometimes because inexpensive does not always translate to high quality, but there are earphones out there that check off both categories.
The earphones mentioned below actually do check off both categories and for good reason.
Budget Recommendation: Aukey Latitude
– If you're looking for a reasonably priced, budget-friendly product, we recommend the
Aukey Latitude (EP-B40) wireless headphones
. These earbuds, which are very friendly to your wallet, are best for casual workouts such as gentle, slow flow yoga practices.
We also recommend the Aukey Latitude headphones for people are prone to lose or damage their headphones. These are often a great choice for kids and new yogis.
AUKEY Latitude Review - $30 Bluetooth Headphones
We also tried a few other models (shown below), but we really liked the Aukey Latitude product. The Alterola Single Mini Bluetooth Earbud is good for any at-home yoga practice, but the difference with this choice is that there is only one earbud.
It's a personal preference, but I like to have an earbud in both ears.to see how efficient it would be for both ears. If this isn't a problem for you, then the Alterola Single is a decent choice.
This product would also be good for anyone who would like to enjoy an at-home yoga practice but at the same time needs to have the other half of their attention elsewhere during the workout.
You can hook this earbud to your Bluetooth entertainment devices and hear your practice. This earbud is super comfortable, lightweight, compact, has a portable design and can be synced with Android, Xiamoi, iPhone, iPad, Samsung and Windows phones.
Finally, we also like the Yurbuds Noise-Isolating In-Ear Headphones. These are twisted in a shape that fits and forms to your ears so securely that you might not even know they are on your ears. These earphones are especially good for yoga practices that have you moving around vigorously and will stay in without a much fuss.
Midrange Earphones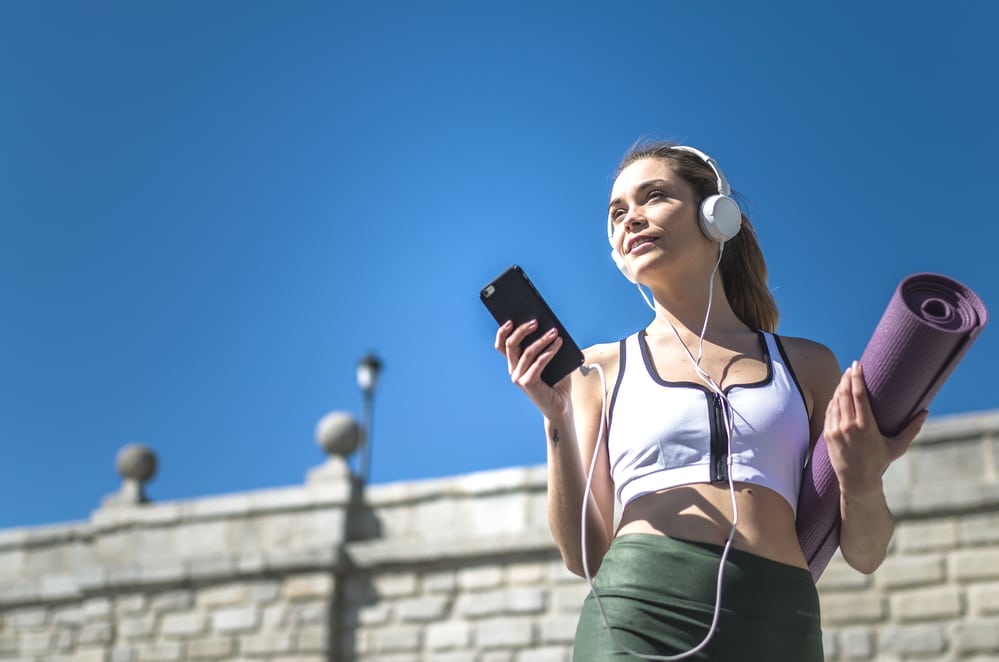 Affordable, efficient and useful can all exist in one place, especially when it comes to earphones. There are some yogis that would like to have those qualities in their earphones.
The above price range of approximately $40.00 to $80.00 may be expensive to some but may be a dream come true to others. Luckily there are earphones on every single end of the spectrum for any and everyone.
There is a particular category of earphones (such as the ones mentioned below) that are extremely popular in the running community but have also crossed over to the yoga community.
Midrange Recommendation: Plantronics BackBeat FIT 500 Headphones
– The
Plantronics BackBeat FIT 500 Headphones
are on-ear (or over the ear) headphones and are fantastic to have for
high impact cardio
or
lifting weights
. But you can turn that around and use these while lifting your own body weight during your yoga practice on your mat.
With incredible battery life, up to eighteen hours, you can practice yoga and continue to listen to your music or podcasts for the rest of the day then even some more the next day.
PLANTRONICS BACKBEAT FIT 500 Review | Henry Reviews
We also consider several other quality models (shown below):
JBL Endurance Sprint earphones are true to form because they are affordable, waterproof, fantastic sound and sweat-proof. The waterproof quality of these earphones is incredible – if you accidentally drop the earphones in the sink or the tub, they will still be intact.
These secure fit earphones have a battery life of eight hours and are popular amongst runners but they are also becoming popular in the yoga community. Yogis everywhere can throw these earphones on, hop on their mats and go in and out of Warrior I and II without fear of the earphones falling out.
TR Bone Conduction Headphones are extremely comfortable with fantastic noise protection. You can listen to your tunes but still hear the outside world to ensure that you are still safe in your environment. The noise protection is a double-layer feature that is rare in earphones. Every yogi would benefit and you can purchase these very comfortable earphones on Amazon.com.
TopRated Mini Invisible Bluetooth 4.2 Ear Buds for iPhone and Android are made with the ability to produce great sound. These earphones have one of the best dual wireless Bluetooth experience in the industry and can be linked to your iPhone or Android to do a yoga practice.
Swimbuds Waterproof Headphones are true to their title – waterproof, sweat-proof and will still function if accidentally or purposely dropped in water. What an incredible feature to have in earphones. You can bring these incredible waterproof earphones to your next SUP (Stand Up Paddle Board) yoga class and not have to ever worry about ruining them if you fall off of your paddle board.
JBL Under Armour Wireless Headphones are the perfect workout earphones simply because they were created by fitness professionals at Under Armour. When you hear Under Armour you immediately think fitness and long-lasting.
These earphones are just that and can be paired with a fitness app to track your progress. Download your favorite fitness app and plug-in yoga to track your practice while on the mat all while the earphones stay put in your ears.
Jaybird Tarah earphones are extremely durable and equipped with unbeatable sound quality which makes them one of the top picks for earphones to use during workouts. These earphones will not get in your face or your eyes, they will actually stay where they are designed to – your ears, for the whole workout.
Weighing in at less than a half-ounce you will not even feel these earphones in your ears while moving in and out of your yoga poses.
There are some earphones that you will have to shuffle out a little more savings for and that is okay because some people enjoy spending their money on high performance and high quality.
High performance and high quality are often times linked to high price tags, but some people believe that you get what you pay for. For some, if you pay a high ticket price you will receive a high performance, high-quality item and for some that will make or break a workout.
Jaybird X3 Sports Headphones are small yet extremely beneficial because they stay in your ears, unlike some earphones. There are small enough to forget they are in your ears but big enough to pump out the sound for the listener.
These are great for yoga because when you are moving around from pose to pose you do not want to have to worry about constantly adjusting and re-adjusting your earphones, you just want to flow through your poses mishap free.
Plantronics BackBeat Fit Bluetooth Headphones are another set of earphones that actually stay in place in your ears and are no fuss, no hassle. These earphones wrap around the backs of your ears to ensure a secure fit through any yoga practice.
If you are in a bind and need the earphones sooner rather than later, all you have to do is hook these up to their charging device for fifteen minutes and you will have an hour of listening.
Sony SP600N Wireless Noise Cancelling Sports Headphones are small but mighty. Versatile and can be packed away for travel. Travel to and from home to yoga studio or simply around the corner in your house to your yoga room.
Or even travel to a weekend getaway but you still want to get a yoga practice in while you are away, these earphones are perfect for that occasion as well. Sony SP600N Wireless Noise Cancelling Sports Headphones are a little pricey, but they are worth every penny.
High-end Earphones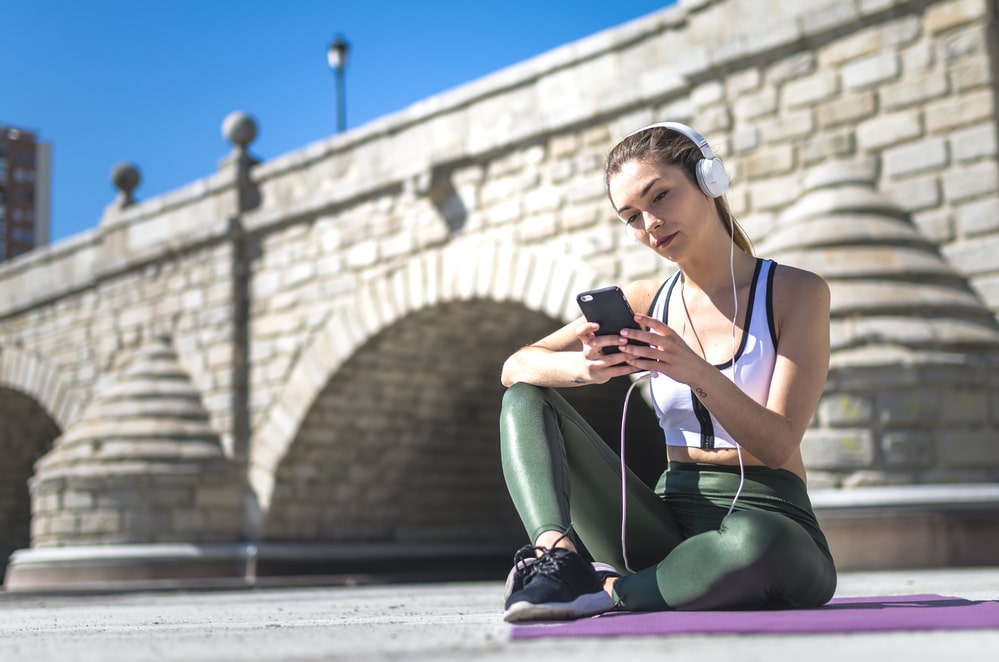 On the higher end of the earphone price spectrum, there are earphones that fall into the $99.00 and above range, but considering the way they work and feel, some would argue that they're a deal even at these higher price points.
Incredible battery life, sweat-proof, waterproof, different levels of adjustments and noise-isolating are just a few of the features these earphones have. If you do not mind spending a little more on your earphones for your yoga practices, the earphones below are worth checking out.
High-end Recommendation: Bose SoundSport Free Wireless Headphones
– The
Bose SoundSport Free Wireless Headphones
are fully wireless from a technology and fashion standpoint. There are no physical wires and you can plug in anywhere.
With an in-ear style, these earphones stay secure in your ears while you are working on your headstands during your yoga practice. Bose SoundSport Free Wireless Headphones come with a chargeable case, which can be taken with you anywhere to connect for a quick charge when needed.
Bose Soundsport Free - TRULY Wireless Earphones - REVIEW
We also consider several other quality models (shown below):
Optima NuForce BE Live5 earphones have been coined the term "the price is right" because for all of their features, bells and whistles the price does match. Yogis can use during their yoga practice but can also wear for everyday use because they are just that good.
The comfort in the way they fit on your earphones almost does not match up to their actual price, one would like they should cost more for as good as they feel on your ears. Made with slick aluminum, they are made to clasp around your neck magnetically once they have been taken out of your ears.
These earphones have an eight-hour battery life and are waterproof. Although they are comfortable and feel good on your ears, they are not at all recommended for vigorous workouts.
Beats by Dr. Dre Powerbeats3 wireless earphones are popular for at least one reason – the creator of the earphones is in the name. But Dr. Dre is not the only reason these earphones are popular, they are said to be the best for any and every workout. Equipped with ear hooks that actually stay in place on your ears during your entire yoga practice.
Plantronics BackBeat FIT 2100 earphones are new and improved from the original BackBeat FIT earphones. With seven hours of battery life, durable and waterproof, these earphones are hard to beat.
Equipped with great noise quality, you are able to listen to your tunes as well as listen to your surroundings to ensure safety. Put these earphones in and hop on your yoga mat and dive into your practice.
JLab Audio Flex Sports earphones stand out in the earphones industry because they are over-ear headphones and with three levels of adjustments to ensure secure fitting and up to twenty-hour battery life, there is almost no competitor that has those three outstanding features.
Made with cotton and polyester ear cups that block sweat and not to mention you can pop these ear cups into the washing machine. Imagine getting ready to throw your earphones into the washing machine after your intense, sweaty yoga practice and not have to worry about destroying them; that is what these earphones are designed to prevent.
Altec Lansing Evo True Wireless Headphones are waterproof, sweat-proof which keeps all of the sweat and elements out. Enjoy a hot yoga class in these earphones and you will not have to worry about sweat getting onto them. Yogis would find these earphones extremely beneficial and useful during their practices.
Sennheiser CX Sport Earphones have an interesting feature in which they connect to multiple devices at the same time. It is important to make sure that you only keep the devices on that you want to hear your yoga practice coming from.
These earphones are very secure and splash proof and can be used during SUP Yoga classes or even yoga classes on mats in the middle of an indoor college pool (it is a new form of yoga!). But I would recommend if it is your first time during yoga in a pool then to focus on the instructor more than your earphones.
When it does come time to focus solely on what is playing in your ears, you will not have to worry about outside noise accidentally creeping in because these earphones are very good at locking in sounds.
Apple AirPods' popularity exists partially in the name and partially for one outstanding feature. These earphones will stay secure in your ears during your yoga practice and not slip out, which is a concern with some earphones that do not have wires. That is a standout feature that can be difficult to find in earphones without wires.
RHA TrueConnect earphones are soft silicone tips that fit extremely secure in your ears. Feel free to move in and out of yoga poses without worry about these earphones falling out of your ears and sweat as much as you feel you need to because they are also sweat resistant.
With over twenty hours of battery life, these earphones not only last for almost one full time without having to be charged, but you can also connect the charge case to a USB cord to add an extra four-hour charge life. They are also amazing at isolating noise that does not belong.
Bose SoundSport Free Earphones are equipped with great sound quality and are made with silicone rubber that lines the outside of your ear to protect your ears from discomfort. Along with the great quality, you can also hear your surroundings but not at a level that is distracting but a level that makes you feel secure.
Roll out your yoga mat and start your at-home yoga practice and you will still be able to listen out for your children and dog around the house. The case that these earphones come in has the ability to add an extra two hours to the recharge cycle.
Bose SoundSport Pulse Wireless Headphones are great for upside down movements, especially in yoga. Even though these earphones are made with wires, they are not moving around when you are upside down, they stay in place behind your head.
What a great feature because some earphones that are made with wires become more of a burden due to constantly having to move the wires out of your face.
Wrapping Up
Finding the best earphones for your yoga practice does not have to be a headache. Your practice can be a gentle, hot, SUP or hip-hop yoga practice and you will find the best earphones as it relates to your practice preference.
The days of long wires and cords are gone and there are the days of wireless or short cords and wires that prove to be useful for a great workout.
Earphones with features that actually matter to the consumer are important to look for searching for the perfect workout earphones.
Everyone has different preferences and their own checklist when searching for the perfect earphones. All of the earphones discussed in this article fit every yogi's style due to their wide range of features and prices.