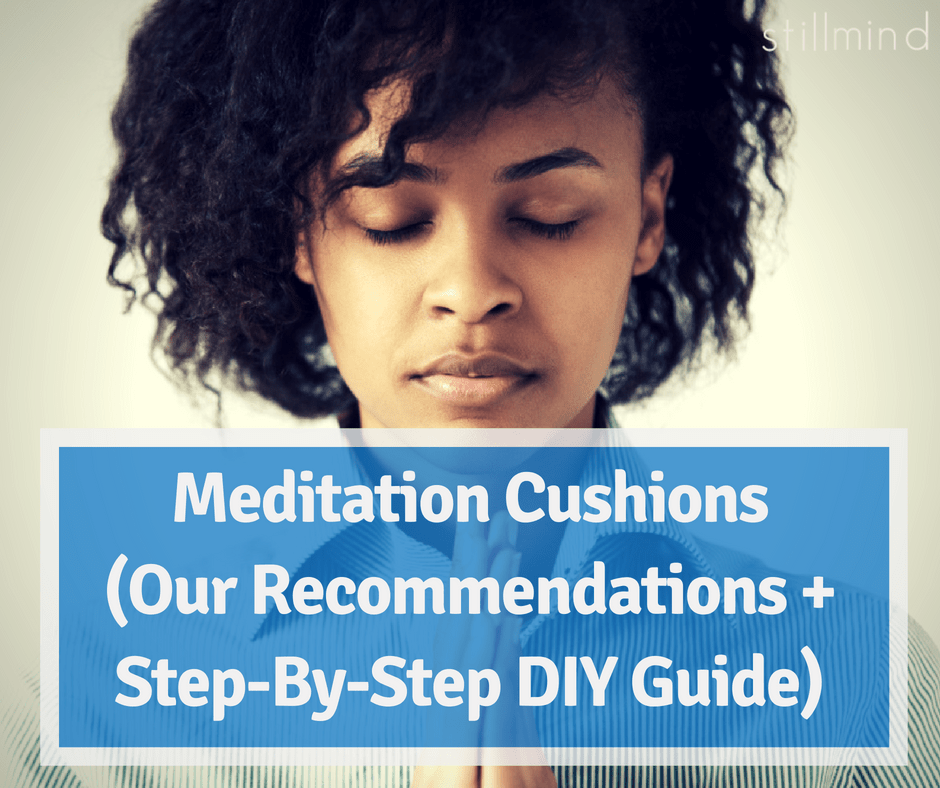 This is the most comprehensive guide to meditation cushions available online.
In this guide, you'll learn everything you need to know about using meditation cushions, or if you're a do-it-yourself type, we'll even teach you how to create your very own meditation cushion.
Plus we'll provide our top picks for those people that simply want to purchase a cushion.
Let's get started.
The purpose of meditation cushions (also called a zafu) is to help you achieve a straight, comfortable posture.
A mat or zabuton, which is used in conjunction with a meditation cushion, is meant to alleviate some of the pressure on your shins, knees, and ankles caused by sitting on a hard floor.
If you're just looking for a simple meditation cushion, I really like the Yoga Direct Round Cotton Zafu. It's relatively inexpensive and, if you need extra height, you can just buy another one to put on top.
Meditation Cushions (Our Top Picks)
This section provides an overview of the different meditation cushions available to buy and the specific needs that they fulfill. Generally, there are many different types of cushions available in a variety of sizes and colors so that's one thing you may want to keep in mind.
I've included this Buckwheat Yoga Meditation Cushion in position number one because it's an excellent all-around choice.
The buckwheat hull-filled cushion is firm and will mold to your body shape, the organic cotton covers are washable and it's available in a variety of colors. You can also adjust the height if you want to.
This rectangular meditation zafu & zabuton cushions are perfect for meditation training, breathing exercises, and yoga sessions.
The cushion set, offered by Magshion Furniture, isn't cheap, although it's reasonably priced for a cotton set of this quality.
This very popular zafu meditation pillow is a circular buckwheat-filled organic cushion. It's available in 5 different colors and 3 different sizes.
The cushion is very well constructed. There is no exposed zipper, and it's very sturdy. The cushion includes a carry handle for easy transport. Plus the buckwheat hulls are sealed within the cushion's pouch by a zipper.
A cushion that's perfect for both at-home use and when you're traveling. I travel frequently with my job, so if you're constantly traveling I highly recommend having a mobile inflatable meditation cushion.
There are three separately inflatable parts so you can customize the size, plus the cushion is very light when deflated at only 13 ounces.
The "cosmic cushion" is a relatively new innovation. It provides more comfort due to its shape and the resulting extra thigh-support.
You can choose between either a buckwheat or a kapok filling. Go with buckwheat if you want a softer feel. As with most of these cushions, this one comes in a wide variety of colors.
I've included this because of its lovely design. It's 100% cotton and a fair-trade product made by the exiled monks of Drepung Loseling Monastery in Nepal.
Lovely little item. If you're looking for a beautiful design also see this piece.
Dharma Crafts, a popular company that makes luxury meditation cushions, created this recommended cushion. I've included this item on the list because it's a very popular luxury item.
The buckwheat filling is organic and the outer material is hand dyed cotton. The product comes in 4 different colors.
What is the Best Meditation Cushion for You?
One major aspect of meditation, that isn't discussed nearly enough, is how to find the best meditation cushion, seat or chair for you. I believe that you need to be comfortable before you can reach nirvana.
From an anatomic standpoint, many people need spine support in order for you to be able to sit on the floor for long time periods. If you have ever had an aching back or if your feet felt like they had pins and needles in them, then you need to use a cushion to prop yourself up.
As a matter of fact, unless you happen to be one of the few people that are comfortable when sitting in the lotus position on the floor, without any back support at all, then a cushion should be incorporated into your meditation ritual.
In this section, we will discuss 4 different kinds of meditation cushions: (1) zen yoga pillow, (2) zabuton, (3) zafu, and (4) v-shape yoga cushion.
Remember that the purpose of a meditation cushion is elevating your pelvis so that your hips are over your knees.
That allows blood to flow properly to your feet and legs so that you are able to sit for longer periods of time. It also promotes a tall spine which allows for the free flow of energy.
Types of Meditation Cushions
Zabuton Meditation Cushion
Traditionally, a round-shaped Zafu cushion is put over a Zabuton. This allows you to sit on your Zafu cushion with your knees sunk into the pillowed softness of the large square Zabuton.
Although this scenario is ideal, if your wallet or house isn't ready to have two cushions just yet, you can just purchase the Zabuton by itself.


Unlike other cushions, Zabutons (due to their large size) come with built-in knees for support. While sitting in lotus, easy seat, or crossed-legs, your knees rest on the cushion's cushy surface. When using other options, it results in your knees resting on a blanket, or a mat or the floor.
In order to use the Zabuton to raise your pelvis, a fourth of your Zabuton can be folded under you. That gives your seat about 2.5 inches in added elevation (compared to 6.5 inches of added elevation when you have a matching Zafu).
The Zabuton can also work as a yoga bolster, which is a secret benefit nobody ever talks about. Just fold it in two and use the included strap to secure it. It can now be used as a bolster underneath your knees for Shavasana at home or a makeshift bolster for performing Yin yoga from the comforts of your home.
In summary, the Zabuton is a meditation mat. Use it in conjunction with a cushion to ease pressure on the ankles, knees, and shins. It's especially useful if you're going to be sitting on a hard floor. If you are struggling a lot with knee discomfort, you can always add a pillow under your knee.
Yoga Zafu Meditation Pillow
It is heaven to have a Zafu placed on top of your Zabuton to truly elevate your pelvis and cushion your knees. However, the Zafu can also be used on its own.
Take the yoga mat and fold it in two for additional padding or you can put a blanket down so that your knees are resting on something that is supportive.
You can then enjoy the full length of your spine that the prop provides you with its 6.5 inches of elevation. For the correct spinal alignment, make sure to sit on the front part of your Zafu (and not the center).
Zafus are also useful as makeshift pillows in all kinds of situations whether you are on the couch watching TV or stretching on the floor at home.
V-Shape Yoga Cushion
The cushion supports both your pelvis and thighs, which makes it excellent for individuals with knee or low back problems who are flexible already while sitting cross-legged on the floor (but just want some added comfort).
If your knees are elevated at least 6 inches and you have a rounded low back when you are sitting on the floor (use a mirror to check your seated profile) then the thigh support on this cushion won't serve you too well.
Similar in ways to the Zabuton, it is our pick for individuals who are comfortably already seated on the floor and just want some more padding and support.
This cushion offers an added bonus of being small enough that you can use it on a chair. That means you can sit crossed-legged on the cushion while you are working at a desk! (Make sure to elevate your laptop or monitor as well so that it is at eye level).
Zen Yoga Meditation Pillow
Technically the rectangular-shaped Zen Yoga Pillow offers 6.5 inches worth of elevation, just like the Zafu does, but it feels higher due to its shape and fullness.
The cushion gives you the greatest elevation which makes it excellent for individuals who struggle with sitting on the floor, are very stiff, or have tight hips.
Its rectangular shape (in contrast to the Zafu's circular shape) offers more stability. We once saw a 6'3″ male test out the cushions while doing yoga.
As a big guy, he though the Zen Yoga Pillow provided him with the most stability, height, and support. He reported that he felt wobbly with the round-shaped Zafu.
You can always pair a Zabuton and Zen Yoga Pillow together to provide you with additional knee support and a set-up that is even more luxurious.
Additional cushion types:
Half-moon/Cosmic: A cushion with a crescent-moon shape. The slope and extended sides allow for optimal alignment and good thigh support. Good for taller and less flexible people.
Inflatable: Usually in the style of the half-moon cushion, these are great for travel. Also good if you want to be able to adjust the size
Rectangular: Same as a zafu just rectangular.
Bench: Used to support a kneeling posture.
Chair (e.g. "bonVIVO EASY"): usually used in conjunction with a cushion to provide extra back support.
What Is a Kapok? Should I Choose a Kapok Zafu or Buckwheat-filled Zafu?
Kapok is a type of soft natural fiber derived from seed pods produced by the Kapok tree that grows in Indonesia and Thailand. Naturally resilient and silky, it is a traditional stuffing that is used in sitting cushions.
Buckwheat Hull is a naturally water-resistant material that's a by-product of buckwheat milling. The hulls of this grain are pesticide free and hypoallergenic. They are also very durable and a sustainable product.
People who meditate in either the kneeling or seiza positions might prefer to use a kapok cushion since you can turn it on its side to offer additional height. There are some individuals who prefer its traditional feel and have been sitting on kapok-stuffed cushions for many years.
If you want more stable, durable seating, buckwheat hulls make an excellent choice. Buckwheat hulls make a heavy, dense cushion.
If you prefer a light weight cushion, Kapok is the right filling for you. Kapok filler makes a light, fluffy cushion. Both substances will conform easily to the shape of your body and will not cave in or compact too easily.
No matter which you choose, sooner or later you will want to re-stuff your pillow. Kapok filler is slightly more sustainable than buckwheat hulls, but buckwheat hulls are more durable and will need replacing less often.
I Have Back Pain. Are There Meditation Cushions with Back Support?
Conceptually everyone can participate in meditation because all you need to start is a calm space and a willingness to work your body and your mind.
However, three major challenges tend to make it difficult for people to start practicing meditation: (1) time, (2) focus, and (3) physical pain. If you suffer from hip or leg problems, sitting on the floor can be difficult. This also makes it difficult to find meditation teachers since most of the traditional meditation instructions involve sitting on the floor.
Back pain is also a big problem, especially if your floor is made of hardwood. It's important to be comfortable because otherwise, it will be impossible for you to meditate.
There are meditation chairs that you can find on the market, and these can be a great way to help support your back and hips and avoid the pain of sitting on the floor. You can find a wide variety of different options and styles, so just about anyone can ultimately find a chair that can meet their needs without costing an arm and a leg.
As you look for meditation chairs you'll find that most of them include a cushion, allowing you to focus on meditation instead of your pain.
If you have back problems, consult with a doctor and see if they have any recommendations to help you deal with any lingering back pain.
Do-It-Yourself (DIY) Meditation Pillow
When you make your own pillow, you can customize every aspect of it. Your meditation cushion will be custom made to suit your height, level of flexibility, style, requirements and personal preferences.
It's fun and inexpensive to experiment with the different designs, colors, fabrics and filler materials available to enhance the look of your personal cushion.
We hope this complete DIY guide to designing and creating your own meditation pillow has been helpful to you. Follow these easy steps, and be sure to add your own creative style, to design the perfect meditation pillow for your needs and preferences.
Note: If all this still sounds a bit too daunting, don't despair. Click HERE to read our complete reviews of the very best ready-made meditation cushions!
What's the Point?
A meditation teacher of mine once gave an excellent reason for sitting in good meditation posture. The mind, he said, is a curious thing and gets used to particular body positions being associated with particular activities.
If the body and mind are both aligned in their aim to be still and focused, it will be that much easier to achieve. The point of the cushion is to help improve our posture and feel more grounded.
The analogy of a mountain is often used to describe an ideal meditation position: stable with all three points of contact (buttocks and knees) on the ground.
For most postures, you will need an extra little bit of life to achieve this. Equally, proper posture can help alleviate back pain and other associated problems.
Do I Need to Use a Cushion?
Many people all over the world use meditation cushions, for a very good reason. They are a fairly universal meditation tool. The main benefit that you get from sitting on top of a meditation cushion is it relaxes the muscles and keeps your back straight.
However, truthfully you don't absolutely have to use one if it doesn't feel right for you. Each person is different. There are some people who don't find it comfortable meditating with a cushion.
You might be more comfortable using a meditation bench, sitting on a chair, or lying down. The meditation cushion isn't the perfect solution for everyone. I had to figure out what works the best for me, and you don't need to force yourself to use it if it doesn't feel good or right to you.
How to Find the Right Posture
For meditation, there is no such thing as a perfect posture. Some individuals prefer chairs while others prefer to lie down.
In my experience, one of the best things you can do is attempt to keep your spine as straight as you can. On a cushion or chair, that means tilting your hips slightly forward and also stacking your spine.
When you are lying down, that might mean lifting up your legs to help flatten out your spine. To be good at meditation, you don't have sit in the full lotus position!
It may be useful doing a mindfulness of your body or do a body scan meditation in order to get to know your body better and find out what feels the best.
I like starting my meditation sessions with a short body scan. That helps me settle into my body so that can I can see what adjustments I need to make.
When you sit on a meditation cushion, it can help you tune into your body to figure out where you are experiencing pain and tension, and mindfully move so that a more comfortable posture can be found.
Whether you are sitting on a bench, a chair, or a cushion, meditating for longer periods of time might bring you some pain. That is natural. You must train yourself to understand the differences between serious pain and minor discomfort.
You must learn how to deal with your pain, rather than giving up each time there is some tension that arises. Sitting still does take practice, so you must be patient!