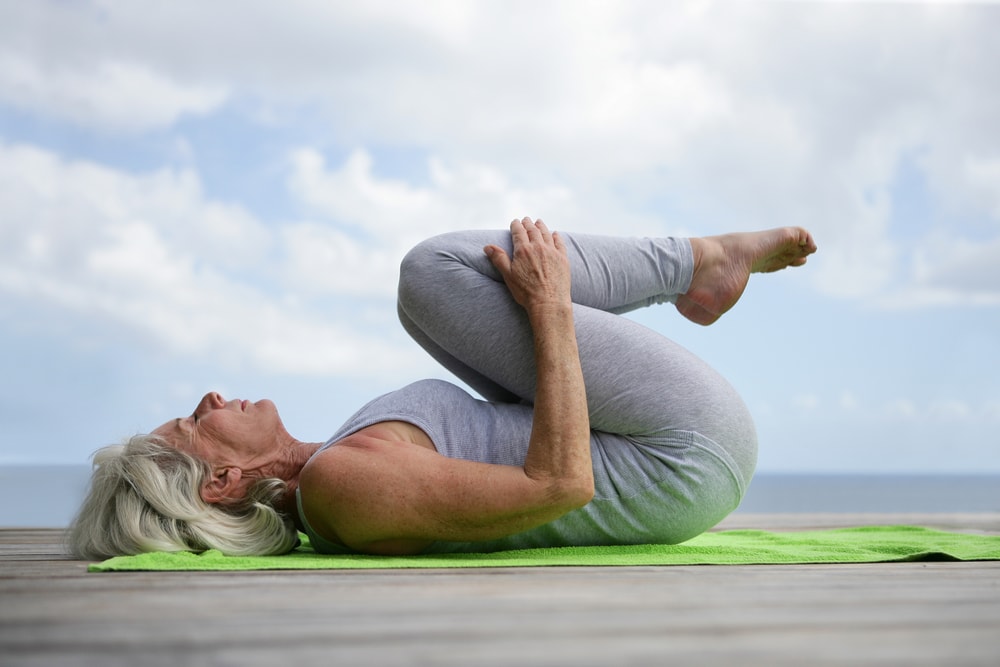 So you've decided to try yoga for the first time.
Maybe your friends (or a doctor) have recommended that you get started with yoga to improve your strength, flexibility, balance or even to relax and relieve pain, stress, and anxiety.
But can basic yoga routines really do all that?
The short answer: Yes!
Yoga is made up of a series of poses that include stretches and using your own bodyweight to gain strength. It also often combines controlled breathing and mindfulness.
One of the great things about yoga for exercise is that it is low impact, meaning you will not be jarring your feet and joints. In this article, we'll cover the best yoga DVDs for beginners.
What's the Best Yoga DVD for Beginners Over 50
If you're over 50 and new to the practice of yoga, or even just looking for some new routines, there are a lot of excellent yoga DVDs out there that can help you get started by practicing in your own home.
This DVD is great to get you started on your adventures with traditional yoga routines. The instructor, Barbara Benagh, goes at a slow pace that is easy for beginners to keep up with.
It has eight different routines, including ones for osteoporosis and osteoarthritis. The routines are easy enough for beginners but are still challenging enough to give you a good stretch and workout. The background locations are absolutely breathtaking.
The instructor has a calm and soothing voice that really helps you relax. She also gives you tips on how to modify positions if you're not quite ready to do the full yoga poses yet.
The instructor, Jane Adams, has put together a series of seven yoga routines that are doable even for the most novice yoga student. The routines are easy to follow and the instructor really gives you time to get into each pose and hold it.
It has routines that focus on strengthening your core, improving your balance, and becoming more flexible. Another terrific thing is that the routines are broken up by different parts of your day: an energizing morning routine, a mid-day routine to help if you work at a computer, and a relaxation routine to help you unwind and sleep better.
This gentle yoga DVD goes over 100 different poses and will really help you master the fundamentals of yoga. Filmed at Lake McDonald in Glacier National Park, you could not ask for a more beautiful backdrop.
This DVD is one of several put out by Jessica Smith. One of the best things that makes this DVD a bit different is that it has three routines that focus on specific areas of the body: neck and shoulders, back and chest, hips and knees.
So if you have issues with a particular area of your body, you can do one of these routines to help loosen up your problem spots. It also includes a fourth yoga routine that is a whole-body stretch.
It is challenging enough for intermediate yoga practitioners but also shows modified poses to help beginners. If you have trouble with balance, there are segments that utilize a chair so you have a little backup while you get used to going through the routines.
Rodney Yee, a certified yoga instructor, is considered the guru of modern yoga. The video is geared towards beginners but could be better for someone with at least a little yoga experience.
Rodney Yee's Complete Yoga for Beginners DVD has a yoga basics routine that goes through the simpler poses that make up the foundation of most yoga practices, a routine that focuses on increasing flexibility, an energizing routine for starting your day, and a relaxation routine to help shake off the stress of your day.
These routines are done at a faster pace. Some people might struggle with the pace at first, but the increased pace really makes it a strong workout. It will get you sweating as well as help build your strength and make you more limber.
A terrific thing about this DVD is that also includes a download for a beginner's pose guide that shows in very simple terms what the basic poses of yoga are and how they are beneficial to your body.
Geared more towards the fitness side of yoga, this DVD may be better for those with a higher fitness level.
It includes four different workouts: (1) a beginner routine that teaches you the basics of yoga, (2) a strength training routine to build muscles, (3) a fast-paced routine to really make you sweat, and (4) a more relaxing routine to help you fight sore muscles and unwind.
This DVD is a good choice for people who shy away from yoga because they are not interested in the spiritual aspect of practicing. The focus here is how yoga can help you from a purely physical fitness perspective.
This routine has been embraced by professional athletes like Lebron James and the Seattle Seahawks. It's not just for men but is a good choice for guys who might grouse over yoga being too mystical.
Related Articles
Some Final Considerations
No matter what your age or fitness level, yoga can greatly improve your physical and mental health. It's been proven that yoga practice can increase your flexibility, increase your muscle tone, improve your circulation and cardiovascular health, aid your metabolism, help protect you from injury, improve your balance and help relieve stress.
Let's face it, a lot of us are busy and don't always have the time to carve out of our days to go to a yoga studio to take a class.
Whether you're brand new to practicing or want to get back into yoga, there are a lot of excellent choices for DVDs that can let you practice in the privacy of your own home.
Another ideal thing about the best yoga DVDs is that there is such a variety of choices. If you're into the spiritual side of yoga, awesome!
There are lots of options that incorporate that. If you're mainly interested in the physical fitness side of things, you've got options for yoga exercises, too!
It's never too late or too early to get into yoga and start reaping the benefits.