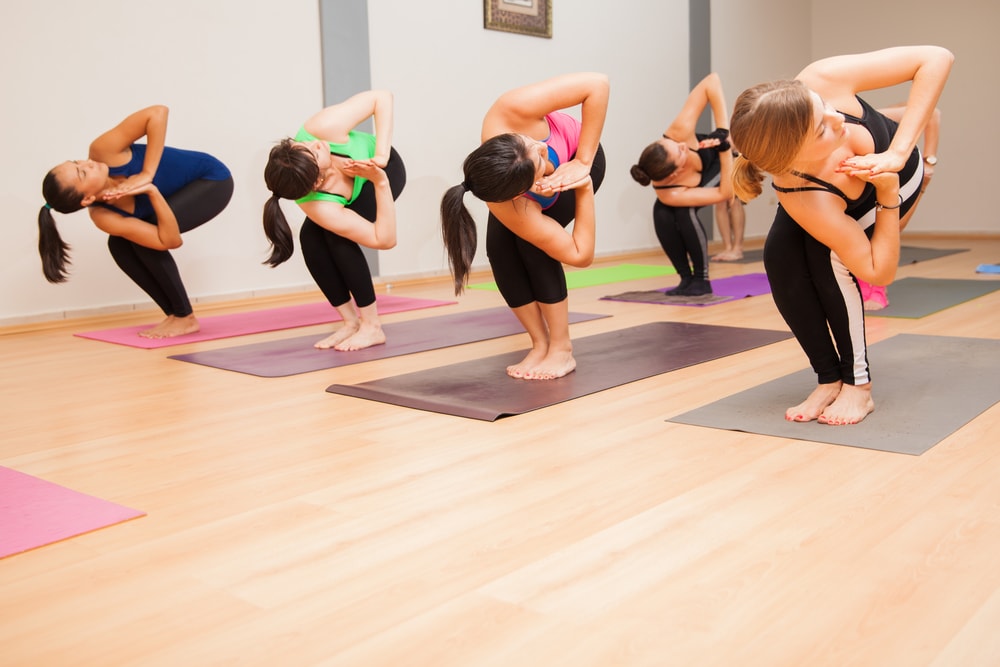 If you have ever taken a yoga class, whether a hot yoga class or not, you know how slippery your hands become.
A yoga mat turned into an ice skating rink is not fun, nor is it safe. There are solutions, but if you find that you are still slipping and sliding on your mat during every yoga class, you're likely looking for the best no-slip yoga mat.
Once you have found the perfect yoga mat, you feel like you have struck gold! There is nothing like going to grab your mat before yoga class knowing that you and your mat will last all the way until the end of class.
What do you look for when searching for non-slippery yoga mats? What exactly is the best yoga mat is to prevent slipping and sliding?
Or if you have a beloved yoga mat that you consistently use, but still experience slipping and sliding, what are tips to prevent slipping and sliding?
With all the options to chose from out there, it can get confusing.
In this article, you will know what to look for when searching for the best yoga mat for slippery hands, and we'll provide helpful tips to prevent slipping and sliding.
The Best No Slip Yoga Mats
Here is a list of the top 5 no-slip yoga mats (links go to Amazon) and the recommended characteristics to choose the best one for you:
This particular 1/4 inch thick mat is extremely popular and has thousands of positive reviews online. This mat is easy to clean, lightweight and has double reversal non-slip sides that ensure as you practice yoga you are staying in place.
I recommend purchasing a carrying strap so that your mat is easy to move around with you. It's designed with anti-tear material to make sure this yoga mat has a long life.
With all the perks that come with this mat, it's hard to say no! Normally this mat is relatively inexpensive, and if you want a mix of quality and affordability, then look no further.
Next on our list is a no-slip mat from Healthyoga. This mat might be a little more expensive than your standard mat, but it's worth the extra money.
It's made from certified TPE material, a non-toxic, odor-free material that offers excellent cushion. This mat comes with body alignment lines that assist with during certain yoga moves and helps you stay in place.
This mat contains a double layer structure that is excellent for cushion and non-slip stability. Healthyoga offers this yoga mat in a larger size, that will cost you extra. However, if you need those extra inches, this mat can take you a long way.
For those of you who want to do yoga, but don't want to spend quite as much on a yoga mat as the mats listed above, this mat could be the one for you!
This best selling mat is easier on the wallet, however, you will still get comfort and cushion for your buck. The BalanceFrom GoYoga mat has double-sided no-slip material.
This material makes it easier to get into those balancing poses while staying in place. The product comes with a free yoga strap. This strap comes in handy for the average yoga participant.
With the moisture resistant material, even if you go hard in the yoga studio, that doesn't mean your mat has to show it. For the average yogi, this yoga mat has it all at a relatively low price. It's hard to beat quality and price.
If a thick, comfortable mat is what you are looking for, then you might have found your Cinderella with this one.
This IUGA non-slip mat is made from the same TPE material as listed previously with other mats. This mat is the thickest on the list and has other great characteristics like reversible slip-resistant quality.
With the innovative alignment stripe design, the mat keeps you on track and balanced.
With a mat this thick and comfortable, you won't even know you are practicing yoga on it. That's what we're all looking for right? The only downfall you might have is the mat's ability to fold with it being so thick, but if you are practicing at home and don't have to move the mat, then you have found the one!
Last but not least, the Youphoria premium mat. This mat is a little more on the expensive compared to the others listed, however, the quality is definitely not lost here.
This mat includes features like liquid absorbent and antimicrobial technology, although a yoga towel is still required for extreme sweating.
However, this particular mat is easy to clean. With the material that this mat is made from, the only cleaning method that is needed is to wash the mat down with a clean wet cloth when done! Finally, the Youphoria premium mat comes with a free mat sling!
Search Criteria for Non-Slippery Yoga Mats
Finding the perfect yoga mat is no easy task. There are quite a few actions that need to be taken; research that needs to be done. Every yoga mat brand has their own reasons why their brand is the best for yoga mats. When you are on the search for a yoga mat for slippery hands, there is a specific criterion that should be followed:
1. Sensitivities. You may have sensitive skin and will need to look for yoga mats that are made from certain materials. Or you may just have a particular preference. Latex, hypoallergenic and/or non-permeable microfiber are common materials that yoga mats are made from. Choice the material that feels best to you.
2. Dry Tech. There are certain features that various yoga mats have which increase your hand grip, keep itself dry as the temperature rises during class. These features keep your mat dry and your hands become sweaty and slippery. When looking for a good yoga mat, it is a good idea to look for a mat with the latest features or at least features that will last a very long time.
3. Weight. Lugging around a heavy yoga mat makes the idea of going to yoga class a chore. If you want to enjoy your yoga class, you want to look for a yoga mat that is lightweight and easy to carry around. A heavy yoga is not always good for your posture either, which is one of the many benefits of yoga.
4. Stickiness. In the yoga world, stickiness on a yoga mat is a good quality to have, because it helps the yogi from slipping and sliding during class. If a yoga mat is extremely sticky, that is a great quality for the mat to have. The stickier the yoga mat, the better for the yogi and their slippery hands.
5. Feel. Decide how you wish to feel when doing standing and kneeling poses on your mat. Some yoga mats have raised designs that you can feel. Other yoga mats have a smooth finish without a raised design.
6. Durability. When looking for a good non-slip yoga mat, you will want to look for one that will last you for a very, very long time. Durability is key when searching for the best yoga mat. Durability may cost a pretty penny up front but it will save money down the line because it will allow the yoga mat to last for a very long time.
7. Thickness. A thick yoga mat may be heavy in weight and may be a pain to lug around but this is when an individual must decide what they want out of a yoga mat. If an individual cares about having thick cushioning to kneel on, look for very thick mats. But if an individual cares about having less cushioning during standing poses, look for a yoga mat with less thickness. The level of thickness of a yoga mat all comes down to personal preference.
8. Eco-friendly. A yoga mat that is environmentally friendly is important to some individuals. These types of yoga mats are made with materials that are not harmful to the environment; organic and natural. It's not necessary to have an eco-friendly yoga mat for yoga class but for some, this is can be a deal breaker when choosing the correct yoga mat.
9. Size. The size of your yoga mat should be an important factor because you do not want to be uncomfortable on your mat during class. Yoga mats are made in various lengths and there is a length for every yogi. If you are tall, medium or short yogi there is a yoga mat out there for you.
10. Appearance. Looks don't always matter to some but to others looks are everything. If you snag a yoga mat of your choice, hopefully, it's in your favorite color or design. At the end of the day finding a yoga mat that is comfortable to you is all that matters.
Tips To Prevent Slipping and Sliding
A waterslide in yoga class is not usually in the class description, but if you have the wrong yoga mat you may be slipping and sliding during class. Having the proper tips to prevent slipping and sliding on your yoga mat is very important because sometimes a bad experience in a yoga class can turn an individual away from attending another class.
Below are tips to prevent slipping and sliding on your yoga mat:
Yoga Mat Care. Your yoga mat needs tender love and care just like humans. Yoga mats should be cleaned before and after each use. Storing yoga mats away after each use is a good habit to have as well. Taking care of your yoga mat will help prevent slipping and sliding. Homemade yoga mat cleaners work just as well, if not better than store bought and it's cheaper too!
Practice More. Yes, yoga mats need to be broken in; like anything else we use for the first time. Consistent use of your yoga mat will mold your yoga mat into what you want it to be. There's nothing like feeling comfortable and falling in love with your yoga mat; your yoga mat gets used to you just as you become used to your yoga mat.
Yoga Towel. Using a yoga towel can help prevent slipping and sliding because the towel will be the barrier between your slippery hands and your mat. Slip-free yoga towels are your best bet and will be a lifesaver! Make sure you look for a yoga towel and not a regular bath towel because they are made from different material for a reason.
Anti-Slip Gear. Some yogis wear slip-less gloves and socks during yoga class. These can be used in place of a yoga towel. Slip-less gloves and socks soak up the sweat from your hands and feet so that you can have a slip-free practice.
Personal Hygiene. Yes, yoga is great for runners, walkers and cyclists alike; it is best not to come to yoga class directly after sweat induced activities. After these activities, clean off then come to class. If you come to yoga class already sweaty there is not a question that you will slide in just about every pose. Also, refrain from applying lotion right before class.
Feeling Really Sweaty When Doing Yoga? Don't Worry! It's Normal!
Sweating is a normal bodily function and it isn't disgusting. You should never feel embarrassed when you sweat. In fact, sweat can actually make it easier to do some poses, especially those that involve twisting.
If you find yourself losing grip on your yoga mat, you can also cover it with a microfiber sports towel or a beach towel. Manduka makes a great microfiber yoga towel, which actually becomes more sticky the more you sweat.
The stickiness allows you to get a great grip. It's also helpful to keep a small hand towel near your spot in class for wiping excess sweat from your arms, legs, and face.
While it might sound crazy, if you are a big sweater, you should wear more clothes. Think how hard it would be to do the crow pose if your legs were dripping with sweat and you were wearing short shorts.
Long pants absorb excess sweat from your legs during hot classes and the extra fabric helps to prevent slipping.
There have been many great yoga mats listed but do not count this one out especially if you don't mind spending more to get more out of your mat!
Now let's think about your hair and face.
How can you remain focused during your Drishti when sweat is running down your face?
Personally, I like to wear headbands to solve this problem. My favorites are Bondi Bands, which can be worn by men and women. However, every time Lucy and Prana have discount sales, I like to buy lots of fun printed headbands.
Are You Worried About People Being Able to See Your Bra Straps, Butt Crack or Underwear?
Looking for ways to avoid the ugly sweaty wet crotch look? Desperate to find a way to stop your tops from riding up and exposing your breasts during the downward dog?
Let's face it, wardrobe malfunctions happen. That said, you can avoid many of them by choosing the right outfits for yoga. You don't have to spend a lot of money on perfectly coordinated outfits, but you should select items that do not restrict movement.
I prefer to wear a tight tank top and capri pants. I find the extra fabric found on flared yoga pants just gets in the way. However, long pants or tight-fitting shorts can be a good choice for some people. If you don't like to have exposed shoulders, you can opt for long T-shirts, which you can tuck into your bottoms.
To prevent accidental flashing and stop your top falling down during inversions, tuck it into your pants or buy a tight-fitting t-shirt instead. A good test is to see if you can lift your arms up while wearing a top without revealing your bellybutton. If you prefer tank tops, bend over and ensure your breasts don't fall out.
Perhaps do a couple of fast twists and turns to ensure that nothing budges. If tight-fitting tanks aren't your thing — some people really don't like the feeling of being strung up — you could consider a top with adjustable cords (drawstrings) at the bottom, which you can tighten or loosen depending on the yoga moves you are doing.
If you do suffer a wardrobe malfunction, don't panic. The chances are very high that nobody will even notice. Simply adjust your outfit and get back to your poses. Slips happen to all of us at some point.
You should avoid wearing basketball shorts or loose fitting running shorts during yoga unless you plan to wear tight-fitting shorts underneath.
Nylon basketball shorts aren't designed for stretching, so there a good chance that these shorts could tear and split during a yoga class. Now that would be embarrassing.
For men, bike shorts can be a good option, but you might feel a little less self-conscious by layering them up with a pair of looser shorts. I once ran a yoga class for a group of cyclists and one of the participants turned up in his bib shorts.
Those shorts had a padded bottom area and they were very tight-fitting. The guy noted that he actually felt surprisingly comfortable wearing something perhaps a little unconventional for a yoga class.
I always recommend that people choose black yoga pants. Yoga pants made from light colored material might look super cute, but black colored pants are the best option if you want to avoid embarrassing sweat patches showing.
What's more, some light colored material can turn see-through when it becomes damp from sweat.
You should also avoid low-rise pants. You will be doing a lot of twisting and turning during yoga and if you wear low-rise pants, you risk accidentally exposing your butt crack.
Always do a few tests in a pair of pants before you purchase them. For example, bend over and touch the floor, or squat down and see if you notice any gaping at the back. If you notice any gaping while you are doing these exercises, choose a pair of pants with a higher waistband.
Finally, if you are on a limited budget, Walmart's Danskin line and Target's C9 by Champion pants are good options. If you are looking to spend a bit extra on your workout outfits, take a look at items from Prana, Lululemon and Moving Comfort.
What's the Best Yoga Mat for Slippery Hands?
After discussing search criteria for yoga mats for slippery hands and tips to prevent slipping and sliding, you are probably wondering what then is the best yoga mat for slippery hands?
As mentioned earlier this is personal preference, although we've outlined several of our favorite yoga mats earlier within this article. In addition to our favorites, there are certain yoga mat brands that pride themselves in producing yoga mats specifically for slippery hands.
You may have to spend a pretty penny upfront on this type of yoga mat but it will be worth it in the end because it'll last for a very, very long period of time.
Here are a few more yoga mats that we like – designed specifically for slippery hands.
I really like the reversible mat from Lululemon, you read that correct – reversible! Yoga can be done on both sides of the mat; it's incredible. This yoga mat is made from a polyurethane material which instantly soaks up sweat and moisture, literally on contact.
The reversible mat is durable, comfortable, has an amazing grip and lasts for a very, very long time. This mat is my current yoga mat and I have not had any complaints, I am absolutely in love.
Washing the mat is extremely easy to wipe down before and after each practice. The reversible mat will not disappoint; use this mat for your regular or random yoga practice and your slippery hands will thank you.
Now, It's Your Turn.
Yoga is a peaceful, mindful practice that is supposed to bring balance to your mind and body, however choosing the best non-slip yoga mat can be stressful. However, after reading this article, we hope that we've been able t0 assist you with your choice so that you can get back to the peace that yoga brings.
When looking for a great non-slip yoga mat, we've covered the most important factors. However, be sure to consider the following factors (at a minimum).
Thickness is important as most standard yoga mats are 1/8 inches thick
Flexibility should be considered so that the mat is easier to roll up and travel with you as yoga mat sizes can vary. Note that you can purchase travel yoga mats that are 1/16 inches thick.
The material is important because you will be making contact with the mat, but it is also important because the material determines how good the mat is at not slipping.
If you struggle with slippery hands during yoga class finding a great yoga mat can be challenging but not impossible. The search criteria that we've provided can be used during your search for a yoga mat specifically for slippery hands.
If you already have a yoga mat and you're having trouble with slipping and sliding, there are tips to prevent slipping and sliding on your mat. Once you commit to your search, you will want to look for the best yoga mat for slippery hands.  Yoga class shouldn't be a slip-and-slide on your mat, it should be enjoyable.