Only a few years ago, the only type of yoga mat you could buy was a basic mat made from PVC.
These mats tended to be sticky, and they typically only came in blue and purple.
Today, consumers have a lot more options. No matter what your needs are, you should be able to find a yoga mat that's uniquely well suited to you.
You shouldn't just focus on finding a yoga mat in an appealing color and style. You should look for a mat that is well suited to your specific yoga requirements.
If you're a traveler, you'll want something that's easy to carry and store, but still comfortable to use.
You might also want to look for an eco-friendly yoga mat. When shopping for a mat, you'll need to look at the thickness of the mat as well as its texture.
You'll also want to consider how the mat was made and the materials that were used.
This simple guide will help you find a yoga mat that checks off all the boxes on your checklist. You can find a comfortable, budget-friendly mat that's perfect for your lifestyle.
Don't listen to stores that tell you your options are limited. Take the time to find something that's perfect for you.
Different Yoga Mat Materials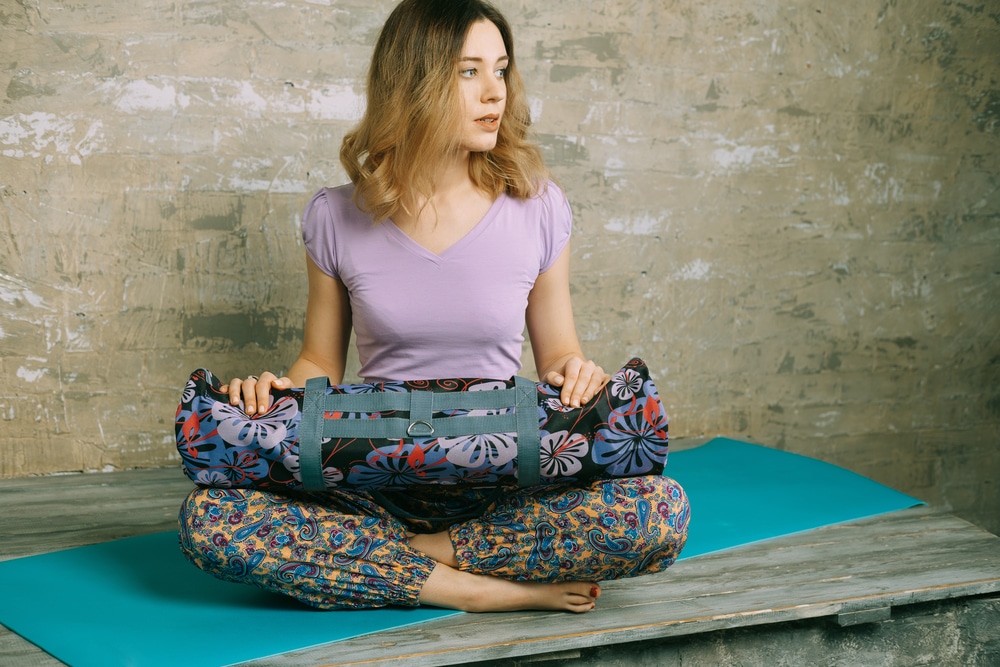 Initially, the differences between yoga mat materials may not seem all that noticeable. However, the materials used to make a yoga mat can change the way you practice yoga.
You should find a mat that will allow you to feel balanced as you go through your poses. Take the time to learn more about different materials, so that you'll know what to look for during your search:
PVC (Polyvinyl Chloride)
The cheapest yoga mats on the market are typically made from polyvinyl chloride, which is commonly known as PVC. Although this material isn't eco-friendly, it does have a lot to offer. PVC mats are durable, comfortable, and have a nice amount of stickiness.
Foam
If you're looking for an environmentally friendly alternative to a PVC mat, a foam mat is going to be your best met. These mats have the same benefits that PVC mats do. The only downside is that they contain latex. If you have a latex allergy, these mats won't be an option for you.
Cotton
Cotton is another environmentally friendly material. These mats are sometimes described as "traditional mats." These mats tend to be thin, so they usually aren't all that supportive. Many yogis place cotton mats over another type of mat. Still, these mats do have plenty of advantages. Cotton is great at absorbing sweat, and mats made from this material can improve your grip.
Rubber
Like foam mats, rubber mats contain latex. However, these mats don't need to be avoided. They're yet another eco-friendly option, and they're very easy to clean and store.
Jute
Jute mats are known for their sustainability. Similar to cotton mats, jute mats tend to be on the thinner side. In spite of their thinness, they provide great traction and plenty of support. That said, jute is a rougher material, and it isn't as absorbent as cotton.
The Thickness of Your Yoga Mat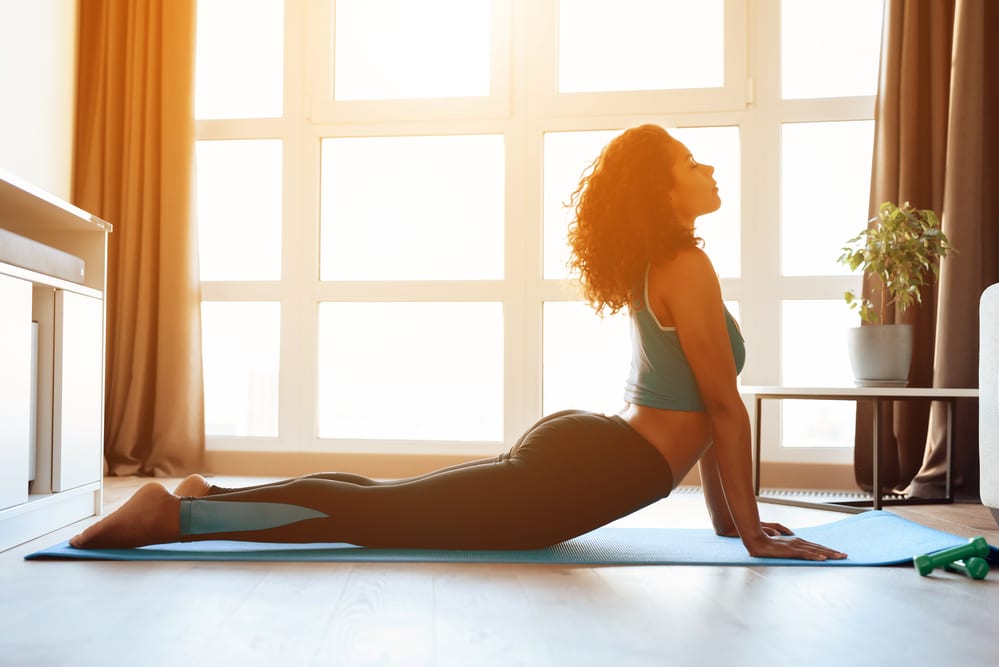 There are three primary options when it comes to yoga mat thickness. It's important to find the right thickness for your needs.
If you choose a mat that is overly thick, you might struggle to maintain your balance. However, thinner mats can be rough on your joints and knees. It's wise to learn more about every thickness type before making a decision.
1/16″ thickness: A 1/16″ yoga mat is typically the thinnest option on the market. These mats tend to be highly portable; they're a fantastic option for people that need to carry their mats around. Because these mats are so thin, they will give you a good feel for the floor you're exercising on. If you like a more natural feel, these mats might be your best option.
1/8″ thickness: The majority of the mats on the market fall into the 1/8″ thickness category. It's easy to see why these mats are so popular. They perform very well, but they're still extremely portable. If you spend a lot of time practicing, these mats are an excellent choice. They provide plenty of cushioning, but you'll still easily be able to carry your mat to the studio every day.
1/4″ thickness: These are the thickest mats on the market, and they provide the most comfort and support. This is the thickness level of a lot of premium mats. While the extra cushion can be very nice, it does make these mats less portable. It can be difficult to fit a mat like this in a standard yoga bag.
Choosing the Size of Your Yoga Mat
Typically, a standard yoga mat is 24″ wide. However, the length of yoga mats can vary.
The most common length you'll see is 68″, but there are also many 72″ and 74″ mats on the market. Longer mats can reach 84″. The right length for you will vary based on your height.
People of average height will be fine with a standard mat, but people on the taller side might need something longer. It's best to experiment with mats of different lengths so that you can see what you need.
You should be able to keep both your hands and feet comfortably on your mat while in the downward-facing dog pose.
Mat Stickiness
When people talk about stickiness in regards to yoga mats, they're not talking about a gooey sort of stickiness. They're describing the way your skin sticks to your mat.
The mats with the best stickiness are made from foam or PVC, providing that the mats are clean. Rubber mats also have a good amount of stickiness. Jute and cotton mats, on the other hand, have next-to-no stickiness.
Mat Texture
As is the case with stickiness, the texture of a yoga mat can help you stay aligned and balanced while practicing yoga. Stickiness can improve your grip through suction, but texture describes a surface that has physical variations.
The texture of a yoga mat can keep you from slipping. A yoga mat with good traction will reduce your risk of injury. Some PVC mats are entirely smooth, and some jute mats are quite rough. There's a wide array of textures out there.
If you're worried about slipping, you should stay away from PVC mats. Cotton, jute, and rubber mats provide a lot more traction. Mats made from these materials have raised textures, which can help you stay secure even when sweaty.
However, if comfort is your top priority, a foam or PVC mat is going to be a better option. You just need to remember that these mats might not provide the right grip when they're wet.
Mat Sustainability
Not everyone that is shopping for yoga mats has the same feelings on sustainability. Regardless of your own personal stance, you'll want to make sure you have the right information.
Many mats, such as mats made from organic cotton or recycled rubber, have a low carbon footprint. Mats made from this material can easily be recycled in the future.
Other mats, such as mats made from PVC, are not biodegradable. These mats are also made from materials that are harmful to the environment.
Cost
It can be difficult to decide how much you want to spend on your yoga mat. Your main goal should be to find a mat that provides a lot of value. If you're opting for something other than a basic PVC mat, you should be prepared to spend more.
When you're deciding how much you want to spend, you'll want to look at factors like thickness and material. These elements will have an impact on the way you practice yoga.
You should try to find a match that matches up with your needs and experience levels. Once you've considered the most important factors, you'll want to look at extra features, such as attractive designs or antimicrobial treatments.
If you're new to yoga, you may want to start out with something inexpensive. You can always splurge on a more expensive mat later on.
Understanding the Different Types of Yoga
There's more than one type of yoga. When you're choosing your mat, you should think about the type or types of yoga you enjoy practicing. Since there are so many styles of yoga, your best bet is to start off with something simple.
If you're interested in more active forms of yoga, such as power yoga, you'll want a textured mat. This type of yoga involves a lot of bending and sliding.
If you're interested in low-intensity forms of yoga, like restorative yoga, your main focus might be personal comfort. These types of yoga usually require you to lie down for extended periods of time. PVC and foam mats should provide the level of comfort that you need.
Whether you're purchasing your first yoga mat or replacing an old one, there are many things you'll have to think about. There are many decisions you'll have to make. You'll have to look at mat sizes, textures, thickness, and so much more.
Thankfully, the information in this guide should make it easier for you to figure out what you need.
Aim to find a mat that will match your experience and dedication levels. Novices should look at entry-level mats. People that practice yoga regularly should invest in a higher quality mat.
More than anything else, you need to make sure you feel at home on your yoga mat. Your goal shouldn't be to find the "best" mat on the market; it should be to find a mat that will allow you to practice yoga safely.
Use this guide to find a mat that's just right for you.
What Are the Best Yoga Mat and Bag Sets?
Have you been wanting to start doing yoga, but don't know the first place to start?
This article will teach you everything you need to know about the best yoga mat and bag sets.
I'm sure that you've considered looking for a yoga mat; not just any yoga mat, but a really good yoga mat and a bag.
Yes, you need a bag to hold your yoga mat.
How do you know what to look for in a bag?
That's a great question that I would expect to be asked by a beginner yogi.
Yoga is you. Yoga is your own experience, but having a great mat and bag set makes the experience that much better for you.
There are important characteristics that a beginner should look for when looking for yoga mats. These characteristics include a non-slip mat, that's sweat proof and well-cushioned.
When looking for a bag set, a beginner should look for a bag that actually fits the yoga mat comfortably, roominess, durable, easy to use, affordable and has a few compartments just in case you need to take extra props or clothes with you to class.
This article will help novice yogis pick the best yoga mat and a bag set. I will also share my 3 top yoga mat and bag sets.
The Best Yoga Mats for Beginners
This all-purpose yoga mat is thick and includes some additional cushion for all your body parts (e.g. bad knees). This mat is great for all body types – short, tall and medium heights.
Some beginners may experience pain in their bodies while doing yoga because they're not used to all of the poses quite yet. This is one of the best mats to protect your joints and other hurt body parts. It's extremely affordable as well.
Beginner yogis may find this yoga mat pricey but's it's definitely worth the money. It's eco-friendly and non-slip; you can't beat that.
Getting a non-slip mat is a plus for beginners; you want to make sure your experience is a good one.
This RatMat is good for beginners because it's affordable and it's just thick enough to provide support for each body part.
Some yoga mats are extremely thick and heavy, but this one is only slightly thick and lightweight; it'll make you want to keep going back to yoga class!
This RatMat also doesn't have any phthalates or plasticizers.
How perfect is this! If you are a beginner yogi, this Gaiam Beginner's Yoga Starter Kit will be one of your best options because it's a complete set of materials needed to get started immediately.
Fully stocked with a yoga mat, yoga block, yoga strap and yoga DVDs; everything to get you started on your yoga journey. The price isn't bad either.
The Manduka PROLite mat is quite possibly one of the pricer yoga mats, but it's a yoga mat and Pilates mat (combined). So, it's a 2-in-1 product.
Not to mention that it's also latex-free and sweat resistant, which makes the lifespan of the mat much longer.
This mat is a great investment for beginners because it should last a lifetime.
This Jade Harmony mat is eco-friendly, non-slip, sweat resistant and contains sufficient cushioning. What else does a beginner yogi need?
This mat is on the pricer side but it's worth the money if you are a beginner and see yourself making yoga more than a one-time thing. The company that makes these yoga mats, plants a tree every time a yoga mat is purchased. That is amazing.
The Best Yoga Mat Bags
This bag set is popular amongst yogis beginners and experts alike. If you ever need extra compartments to add your towel, block or extra clothes, this is the bag for you.
This bag is the answer to all of your yoga needs and it's easy to carry around with a sturdy shoulder strap. For having all of the bells and whistles, the price is hard to beat.
If you want to arrive at your first yoga class in style then this bag is definitely for you. This bag comes in two colors, whether you want to stand out or blend in, you won't be disappointed.
The Matt Bag is also designed to carry various types of yoga mats, from thick to thin and it's extremely durable and easy to carry with a shoulder strap that is adjustable to fit the yogi's needs.
As beginner yogis, the goal may be not to break the bank when it comes to a bag set and that's possible. There are bag sets that are extremely affordable with great characteristics; this bag set is just that affordable with great characteristics.
Simple, straight to the point; no bells and whistles. This bag set was designed to do its job – hold a yoga mat in style and a few mesh openings to allow odors to escape. Being lightweight is its best feature.
Feeling zen before your very first yoga class? This bag set is perfect for you, just look at the name. This cotton, elephant logo bag set is sure to set you in the right mood for your very first yoga class.
The Peace Yoga Tote Bag is more of a bag per-say, it has two carrying straps much like a purse does but it's a yoga mat bag! The bag is durable and roomy.
With the main material being cotton this bag is able to be machine washed; just keep an eye on it after the first few washes because it may lose its shape a bit but it's easy to remedy.
Are you looking to bring more than your yoga mat to your first yoga class? This bag is the right one for you because it's equipped with multiple compartments, and the bag can practically hold all of your clothes!
Compartments for yoga towels, yoga blocks, clothes, phones, water bottles, you name it there is a compartment for whatever you need.
A yoga mat actually does fit in there as well; in the middle along with openings on the end to allow odors from your mat to escape.
Throw this stylish, compartment filled bag on your shoulder and you are ready to go to your first yoga class!
You may be looking for a bag set that does more than simply hold your yoga gear, this bag set can also be used for hiking!
The MERU Crossbody Carrier Sling Backpack is waterproof, roomy, durable, easy to carry and comes with a yoga mat cover so that your mat is safe from the outside elements.
With this being a backpack, there are straps attached to the side of the bag to strap your mat in. Yogis that have other physical hobbies they enjoy have loved using this bag.
Beginner yogis may feel intimidated at first by all of the bells and whistles of bag sets; not to worry because this bag is simple and basic.
The Tree of Life Exercise mat doesn't include too many features; it's just straight to the point. This bag comes in various colors from bright to subtle.
With the bag being canvas, it is durable, easy to carry and easy to machine wash. Roomy with two pockets to hold your phone and keys, and affordable; what more could a beginner yogi ask for in a bag set?
Duffel bags are fantastic and the Everywhere Duffel Heatproof Pocket bag is no different. This bag set is an all-purpose, heatproof duffel bag, but it all holds all of your yoga gear. It simply doesn't get any better.
This bag set doesn't look like a yoga mat bag so you can easily carry this as a purse or an extra bag. There are probably beginner yogis who want an all-purpose, easy to use carrying bag and this is it!
Equipped with straps so that when it is time to go to your yoga class you can hold all you need in the bag, but still have room for your blow dryer or shampoo if you're going on a weekend getaway after class. The price is a bit on the higher side but it's worth the price because it's all-purpose.
The Top 3 Yoga Mats & Bag Sets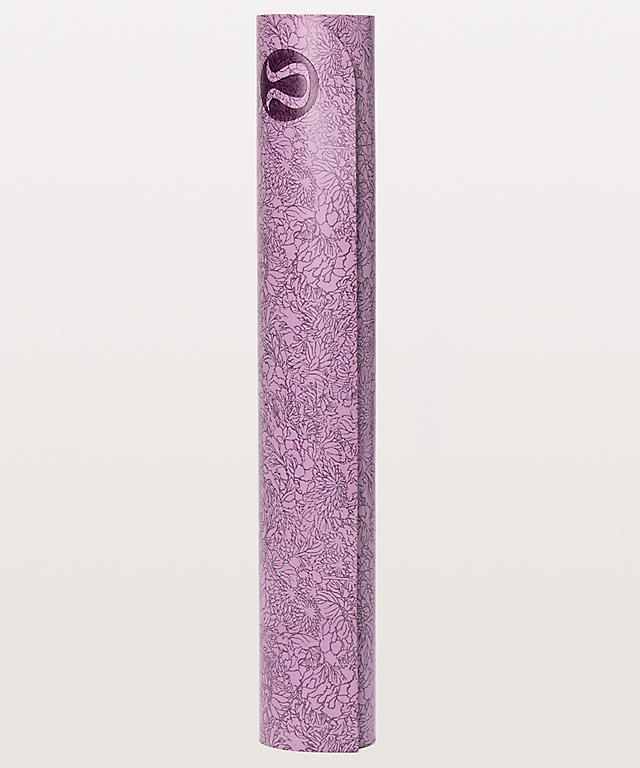 This yoga mat is my absolute favorite because I personally have one. I couldn't be happier with it. I have been through too many yoga mats and I am thrilled to be able to have finally found one that works for me.
This yoga mat is thick because it is reversible. It is also sweat resistant and provides amazing cushioning for all of your body parts.
The mat actually soaks up your sweat and provides a barrier for your body from the floor; thick isn't always bad!
I would recommend wiping the mat down after every use because it is thick and instantly absorbs sweat. You can use a little bit of soap and warm water or you can also use yoga mat spray. I have had this mat for 3 years and I do not see us breaking up anytime in the near or far future!
If I wasn't an owner of a Lululemon yoga mat, I would have the Jade Harmony Yoga Mat. It's eco-friendly and provides great cushioning for all of your joints. Jade is a great yoga mat brand and this may just be my backup mat.
Sweat and slip-resistant are two characteristics that I always look for in yoga mats and this mat checks off both criteria.
The price of this mat is in the same category as the Lululemon reversible mat but it's more than worth it because it lasts for a very, very long time.
Jade Yoga is an amazing company because every time a yoga mat is purchased a tree is planted.
This is a great brand for beginners because some of the mats come in a yoga kit with a mat, yoga DVDs, yoga straps and yoga blocks.
I would highly recommend getting this mat if you are a beginner to yoga. Although the cushioning is not as good as the other brands it's still a good starter mat.
Yoga Bag Sets
I am a huge fan of compartments, multiple compartments at that, and this bag set is perfect. I find it useful to carry not only my yoga mat to class but also my water bottle, yoga socks, towel, blocks and sometimes a change of clothes.
I am also a fan of the openings on each end where the mat goes to air out all odors. The adjustable shoulder straps add to my love as well.
Cleaning your yoga mat is extremely important but sometimes you cannot do it immediately after class so it's nice to have openings until the mat can be cleaned.
I have always been a fan of cotton, especially in tote form. This bag set is super cute and stylish to bring to class and with 'peace' being in the name, you cannot go wrong.
I love tote style bags, they've have always been a favorite of mine.
Totes are always very roomy and this bag is no exception. The Peace Yoga Yoga Mat Tote Bag is very roomy and can hold not only your yoga mat but your clothes, blocks and extra yoga gear if needed. It's just what I need in a bag set!
Back to basics is what this bag set symbolizes to me. Simple, yet chic and holds your yoga mat tight in place. Not many compartments except two pockets that hold your phone and keys in place.
Sometimes I too am intimidated by all of the bells of whistles of a bag set and just want to go right back to basics and this bag is the answer. One shoulder strap which makes the bag not too heavy but also very durable.
Did I mention the bag comes in various different colors too? The perfect bag set for a beginner yogi who wants to start with the basics.
My Final Thoughts
Being a beginner yogi is exciting, but can also be nerve-racking. You don't know what to expect from class or what gear to use. Yoga mats and bag sets can be rather intimidating and you may not know where to begin searching.
Hopefully, the 6 yoga mats and 8 bag sets discussed in the article have helped you with your decision as well as my top 3 recommendations of each.