Yoga is challenging for anyone.
Although, when you have large breasts it can make you feel as if you're not able to achieve the relaxing, mindful states that yoga often encourages.
When you are searching for your first studio, you might not be aware of the different yoga styles that are available. For beginners, some yoga poses might be way too difficult for you, while others might make you fall asleep.
The following are some useful tips for women who have more than they need to work around. Let's begin with the basics, sports bras.
Is Wearing a Sports Bra Necessary?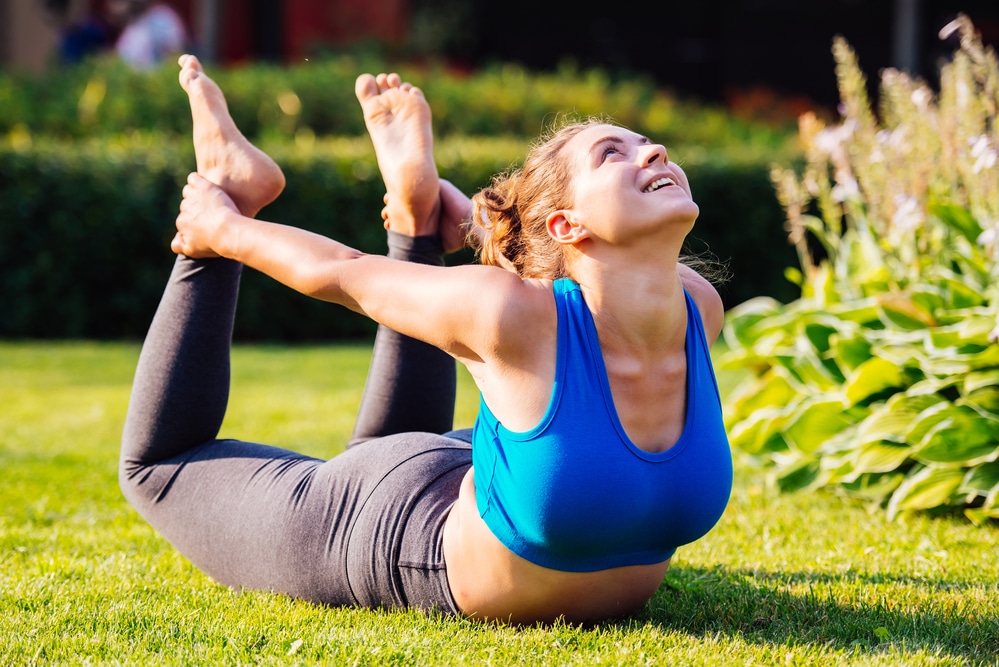 Yes, it is extremely important to keep your breasts contained and that you support your back while exercising.
You should also do this in daily life in general, because your back and chest are subject to lots of stress throughout the course of the day.
If you strain your back continually, you're more likely to end up having nerve and spine problems.
So make sure you help out your back and support your breasts, particularly when you are planning on a few hours of stretching, bouncing and bending. No one wants to end up with scoliosis and dislocations.
Wearing a good sports bra will keep your face and breasts apart while you are performing the pillow pose. In addition, it will prevent your breasts from suffocating you as you are practicing shoulder stands.
Those are both good, right?
They both tie into the concept of why support is so important. It isn't necessary for your breasts to be smashed against your body to create the uni-boob effect. However, your bra should have a snug fit.
A sports bra will hold your bust down towards your center of gravity.
This will make it easier for you to see your knees and toes when necessary, when you are looking a certain way, or adjusting your position, or when your yoga instructor tells you to look at your toes.
Wearing a good bra also will result in less bouncing around when you are moving from a forward bend into a plank as well as vice versa.
I'm sure you know what I am talking about here.
If you have ever performed sun salutations, then you know you "step" or "hop" to plank. That can be almost impossible to do in a graceful manner when you have large breasts.
They have a tendency to jiggle and bounce in almost every direction you can imagine.
What Are the Best Yoga Bras for Large Breasts?
The Glamorise sports bra is one that I have tried personally and found it to be very supportive and comfortable. The Anita extreme control bra is also very popular due to its great quality, providing good support and shape without having an underwire.
If you go into a department store in search of a yoga bra or a sports bra, you should always try it on in my opinion. Although, in this instance, for ladies with large breasts, this tip cannot be emphasized enough.
Go nuts and take 10 different styles and sizes into the dressing room with you to try on. Once you try on one that looks and feels promising, be sure to jump around.
Do a couple of jumping jacks. Reach across your body and over your head.
Do you feel any discomfort when you do any of these things?
Did your breasts move around too much?
Are you able to breathe?
Do you have to re-position your boobs after that?
If the sports bra passes all of the tests, then take it home with you!
What Happens When You Don't Wear a Good Yoga Bra?
Painful Breasts: When your breasts are not supported properly, you will experience pain and discomfort. One of the main problems you will have is bouncing. If you use a yoga bra or sports bra that is made with cheap or thin materials, it is not going to support the weight of your breasts very well.
So when you are hopping from a plank into a forward bend, you will most likely experience some jiggle and bounce. If it doesn't fit properly or the fabric is loose then your nipples might slip out.
When that occurs either above or under the band it can be very embarrassing.
If you choose the wrong bra, you can expect to have your breasts in your face more than usual. Plus, if your current bra is old consider purchasing a new one.
The material might have started to break down so that you aren't receiving the support you used to. Otherwise, the fit might be too lose or the fabric too thin.
No matter what the reason is, it's time for you to shop for a new sports bra. If you aren't sure how to go about this, review the first part of this article where we discussed recommendations and favorites.
When you feel soreness around your breasts that usually means you are not being provided with enough support. One major thing that you need to be aware of is there is an important difference between soreness of breast tissue and your pectoral muscles being sore after working out.
If you have tissue soreness it means that you might need a sports bra that provides you with stronger support, or a tighter fit so that not as much strain is placed on your chest and there is less bouncing.
Another problem that can occur when a sports bra is inadequate or doesn't fit right is nipple chafing. More specifically, it can be due to issues like the fabric being too loose or abrasive.
If nipple chafing tends to be a problem with most sports bras that you wear, then you might want to try out a product such as the Bodyglide: Anti Chafe Balm. It just takes one extra application step while you are at the gym getting dress.
You just glide it over your skin. It was designed and made for cyclists and hikers, and is a product that is intended for reducing dermatitis and friction that is caused by chafing, sweat, and rubbing.
Be sure to apply a fragrance-free body lotion to keep the skin surrounding your nipples comfortable.
Other Pain: Shoulder pain, neck pain, and back pain are all possibilities. These are all signs that you need more support.
However, it can be somewhat different than what you may think. Your back and core muscles provide you with support when you are working out.
When you make sure to maintain a strong core and stretch before exercising that can help with these forms of soreness. If you are feeling pain and soreness in your spin, or any numbness in your toes, then this might be an issue with your spine that is more serious.
If you have any persistent pain in your spine, make sure to visit a reputable, licensed medical professional for an assessment.
As we discussed previously, wearing a sports bra with a loose fit is setting up a potentially disastrous situation for yourself. It could result in soreness, nipple chafing, a nipple slip, or some other issue.
It is bad news whatever it is.
Save yourself pain, money and time, and ensure that you have a bra that fits you well. You might have to spend a bit of extra money, but once you have a quality bra you will not regret it.
Some Additional Yoga Tips for Women with Large Breast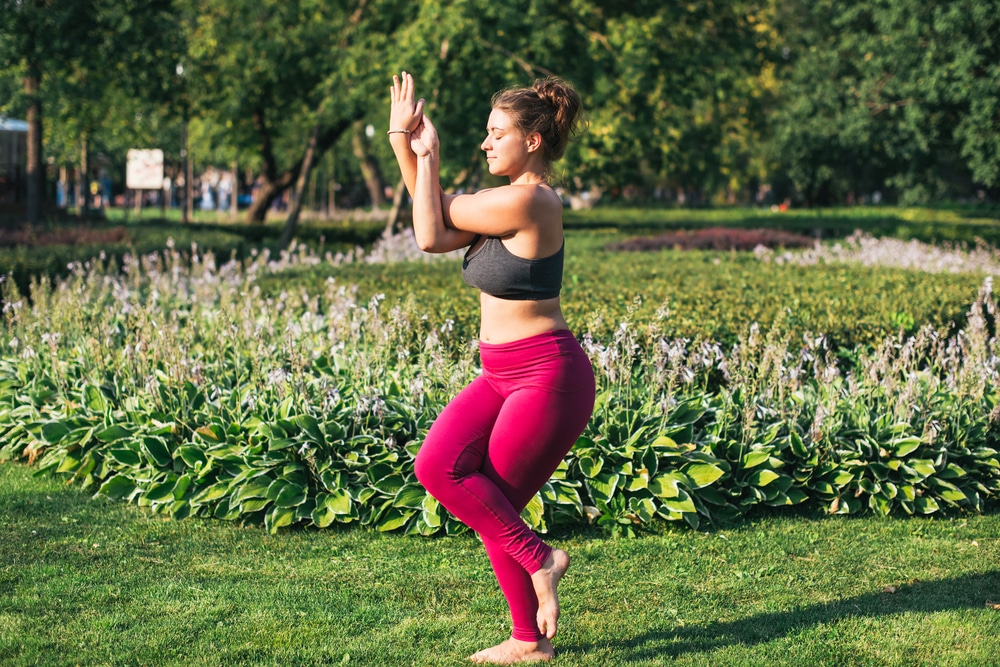 Remember to Breathe: Whenever you are struggling to perform a certain yoga pose, make sure your shoulders are kept open wide so that you can breathe normally.
Yoga is focused on synchronizing the movements you make with your breathing. When you hold your breath, it interrupts the flow of your yoga.
Your face might also turn blue and you might end up gasping for air at strange intervals. You definitely don't want that to happen. Open up your chest and breathe. However, it is challenging.
Breathing is something that cannot be overemphasized. It's critical when it comes to physical exertion.
Breathing throughout your transitions and poses will help you effectively get into your stretches deeper, and provide you with more power during the transitions that are the most difficult.
You will be surprised how low you can get in a bend if you just slowly exhale. Don't allow your breathing to dictate your posture.
Patience: It is important to understand that yoga takes patience and time. Your body isn't going to suddenly become incredibly strong and flexible after just one session of yoga or even ten sessions.
You will notice small amounts of increased flexibility and muscle soreness, but it's like grass growing. You don't suddenly have waist-high grass overnight.
Take classes a couple of times a week, and be sure to stretch once you get before going to bed or in the morning after you wake up. Pretty soon 6 months will go by and you will have a lot of confidence by then.
Invest in Quality Gear: Investing in a quality sports bra is definitely something you shouldn't hesitate about. With all of the frightening and uncomfortable things that we discussed previously, there is no reason why you shouldn't understand how important it is to have a good sports bra, so make sure you don't skimp and get a quality one.
Let's assume there are two bras, and neither of them is on sale. If one costs half as much as the other one, it's likely the cheaper one is going to provide less overall support.
However, these are only guidelines. You don't necessarily need to buy the most expensive bra available.
That doesn't guarantee success.
I think the best move is to find a bra priced somewhere in the middle.
Be Sure to Purchase a Good Yoga Mat: While some people use yoga mat alternatives, I don't generally recommend it. If you will be doing yoga on a hardwood floor, then you will need extra-padding for your knees.
Purchase a mat that is at least 1/2-inch thick; learn more about which size yoga mat you should purchase.
When you are doing yoga at home instead of a studio it is also a good idea to have a yoga block and strap. You can use those tools to help ensure you have efficient stretching positions and the proper form.
Without them, you may end up injuring yourself of twisting in an unintentional way. It may sound silly, but it can be very useful to have a blanket to prop up your back or chest when performing difficult poses. My best friend is my yoga towel when I am performing hot yoga also.
Build Strength: If stretching in your yoga classes is what you are mainly doing, it is particularly important that you maintain good back strength and core strength. That will allow your chest to be supported by your body without your lumbar spine or discs becoming damaged.
To help out your spine, the best thing you can do is go to a Pilates class a few times per week, or occasionally a power yoga class. Also engage your core as much as you can even when you are doing a relaxing yoga session.
That bit of extra exertion will help your body resist injury and maintain strength. When you engage your core that helps to improve your posture as well.
Use Tools: Don't be afraid to use a chair, a belt, or a yoga block. Those tools are intended to assist you. Yoga isn't a competition to see who is the strongest or the best, even though it may appear to be at times.
Yoga is about your individual needs. Inside of the yoga studio will be people with all different types of health issues, including arthritis, torn ligaments, elderly participants and much more.
So don't be embarrassed if you are unable to reach your toes or need assistance from a belt. You probably won't be needing the belt soon anyway! The tools are there for you to use as needed.
A yoga instructor might encourage that you use a belt or block for a specific pose. Don't let this discourage you. They are just trying to help you and it will only hurt you if you don't take their advice due to stubbornness or embarrassment. Trust your instructor.
Many other women with large breasts practice yoga. So don't ever feel ashamed or let down by your body. Keep practicing and ask for assistance when you need it. Also asking questions isn't a sign of weakness, but rather a sign of intelligence and strength.
The Best Glamorise Yoga Bras for Large Breasts
Glamorise Full-Figure No-Bounce Camisole Sports Bra: We really like the Glamorise full-figure no-bounce camisole sports bra for women with large breasts. When buying this bra, you can expect a polyester, nylon, and elastane mix. It's comfortable to wear and stretchy, so there isn't any ride up.
The Glamorise sports bra twists with you, as you move, rather than causing resistance. The camisole design attached to the bra is a breathable open-air mesh and provides upper bust containment for a secure fit.
In addition to exceptional fit, you also receive reinforced bottom cups for optimal support. The closure is an easy hook and eye style, and the bra is machine washable, making it low maintenance.
In terms of colors, you have 5 options. There is a black-pink combo, malibu blue with dark blue trim, soft grey, white and cafe coffee color.
Glamorise Full-Figure Adjustable Wirefree Sports Bra: The Glamorise full-figure adjustable wire-free sports bra consists of more than half of polyester, secondly of nylon, and also 7% elastane. As the name suggests, this bra is wire-free, which is great to prevent nipple chafing.
The inner cups also dry quickly, making it a valuable choice for those who are prone to sweating. There's a two-way stretch back, with a hook and eye closure. What's great about this hook and eye closure is that there are 3 to 5 hooks, based on the size, ensuring a lot of security.
The adjustable straps are non-slip, preventing any annoyance of straps falling, and the sports bra itself is in layered, breathable mesh, with a small, logo tag at the hem. Most of the color options are two-toned such as the green and blue, white and grey, black and grey, and orange and pink, but if you want a solid color, they also have a plain, white one.
Glamorise Full-Figure High Impact Wonderwire Sports Bra: While this high impact bra is slightly more nylon, the mix is about half and half nylon to polyester with 14% being elastane. The cups are double layered with an underwire that the brand calls "Wonderwire".
The Glamorise full-figure high-impact sports bra is made of moisture-wicking fabrics that keep you cool and dry during hot weather. The outer cups are seamless and made of non-stretch material giving them a polished appearance.
This bra should be hand washed, so it's slightly more maintenance than the previous bras. Although, it's very much worth it.
The closure is a hook and eye style, and the bra comes in 4 colors: pink and grey, white and grey, cafe, and black and light purple.
Glamorise Sport Plus Size Camisole Sports Bra: The Glamorise sport plus size camisole sports bra is an elite performance bra made up of polyester, as well as about one-fourth polyamide and contains a small amount of elastane.
It's excellent for many types of exercise such as running, yoga, and cycling due to its lightweight mesh camisole with secure bust containment that gives excellent support.
It also provides cooling ventilation, to help prevent overheating, and discomfort. It has an advanced, quick dry design, breathable material, and wicks any sweat or other types of moisture.
This bra is wire-free, yet still delivers a flattering lift and support for medium impact activity, giving you comfort and attractiveness without the chafing.
In addition, the two way back gives you free range movement while giving you the perfect fit. The closure is an extra plush hook and eye, so it doesn't dig into your back, and the straps are padded to relieve shoulder pressure.
The bra is machine washable and you receive a free lingerie wash bag with this purchase for your convenience. Choose between solid black or a black and white dotted print.
Glamorise Elite Performance Sports Bra: The Glamorise elite performance sports bra is almost completely polyester, this elite performance bra is also mixed with a small amount of polyamide and elastane.
It has a wonderwire design, which is an underwire hidden under two layers of padding to prevent contact with skin. Also featured is its high performing moisture-wicking material, as well as adjustable bounce control for customized support.
Per usual, the closure is hook and eye style, and a free lingerie wash bag is included. With that being said, this particular bra is hand wash only.
When deciding on this bra, you have the option between a traditional, black and grey combo, or a unique blue, purple, and black print.
Some Final Thoughts on Picking Yoga Bras for Large Breasts
All in all, every one of these yoga bras is high quality and well-designed. Many of these styles feature similar characteristics, aside from under-wire versus wireless, and elite versus non-elite, but they all vary in fabric mix, style, color, as well as cleaning instructions.
I recommend using this article as a guide and then reading reviews to get a closer look at people's experiences. I hope one of these bras are to your liking and that this article made your decision much, much simpler!