Perhaps you're brand new to the practice of yoga.
Maybe you're simply researching the various yoga mat sizes before buying your first yoga mat.
Or maybe you've looked at yoga mats, but you're considerably tall and find that the standard yoga mat size is too short. Some yogis even find the standard yoga mat to be too narrow in width.
Whatever your case is, this comprehensive article will cover your questions about yoga mat sizes.
This should help you figure out the perfect measurements for you. In addition, I will also mention brands that diversify the widths and lengths of their yoga mats, and give you a jumpstart on viewing options!
The Standard Size for Yoga Mats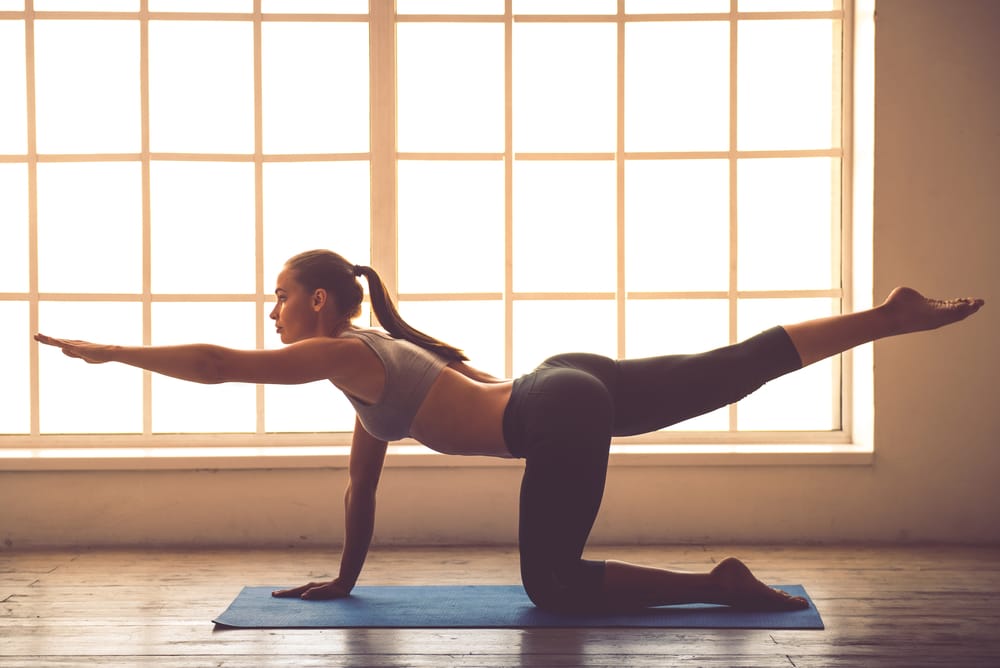 For those who haven't looked into yoga mats yet, let's talk about the standard sizing.
The size of the average yoga mat is 24 inches wide and 68 inches long. In regards to my own practice, I've only done yoga on a standard size yoga mat.
However, I am 5'1″, which is converted to approximately 61 inches, giving me 7 extra inches of length.
Personally, I feel I could use more width in certain poses, so my feet don't go off the mat when my legs are hip-width apart, but that's my own preference.
If you are my height or shorter and don't mind your hands or feet off the mat when hip width or shoulder width apart, the standard size might be the perfect size for you.
Every yoga brand makes standard sized mats, however, I highly recommend three brands in particular.
Manduka is great for the loyal customer that wants a lifetime guarantee and high quality. Jade Yoga is another high-quality brand but is specifically targeted towards environmentalist due to its natural rubber.
For a cheaper price point, Gaiam is good quality for the price and has the most variety in terms of patterns and styles.
That being said, if the standard size does not sound ideal, read onward for more information and different yoga mat options!
Yoga Mat Sizes: Differing Lengths for Various Heights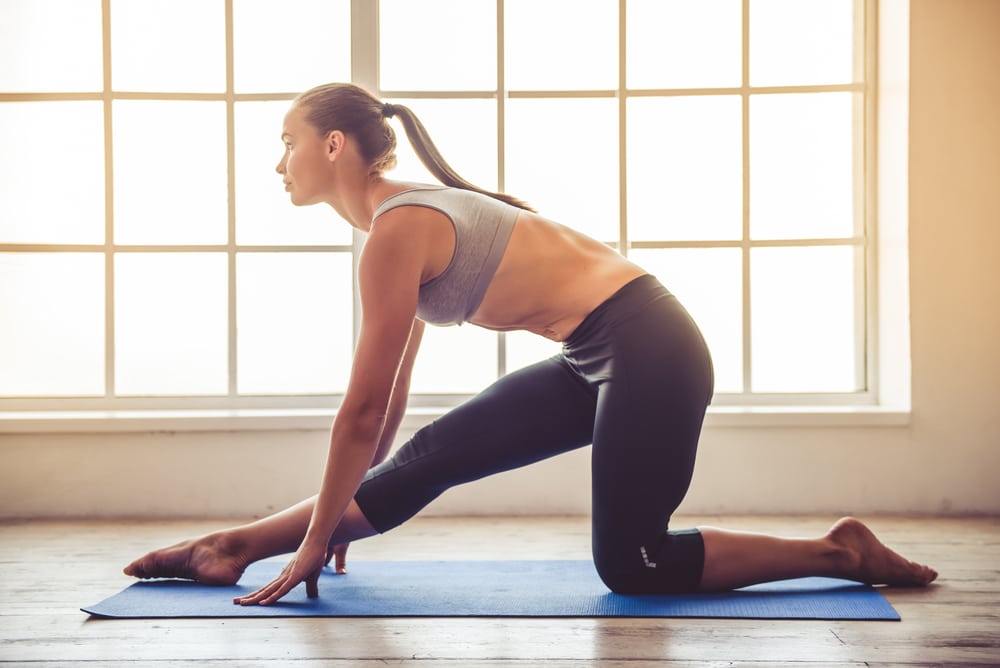 As I mentioned earlier, the standard length is 68 inches, which is equivalent to a person who stands at 5'8.
If you are beyond that height, or simply want a longer mat, you can also find extra long yoga mats that come in lengths of 71 inches, 72 inches, 74 inches and 84 inches. Some brands offer extra long mats that are beyond 7 feet long.
You're going to want to find a mat that allows both your head and your feet to be on the mat when lying flat. 
Extra long yoga mats will be slightly heavier to carry, and a little bulkier when you roll them up, but this is a small con in comparison to the pros of being comfortable during your yoga practice.
As far as suggestions go, the Harmony Mat by Jade Yoga comes in lengths 68 inches, 71 inches, and 74 inches. While it doesn't go beyond 74 inches, they do offer a large variety of colors. They also have the best grip I've experienced.
For the ultra tall person, I recommend this list of XL yoga mats:
There are also many other options out there, but I think you'd find the quality and appearance of these mats to be very worthwhile.
When the Width of Yoga Mats Matter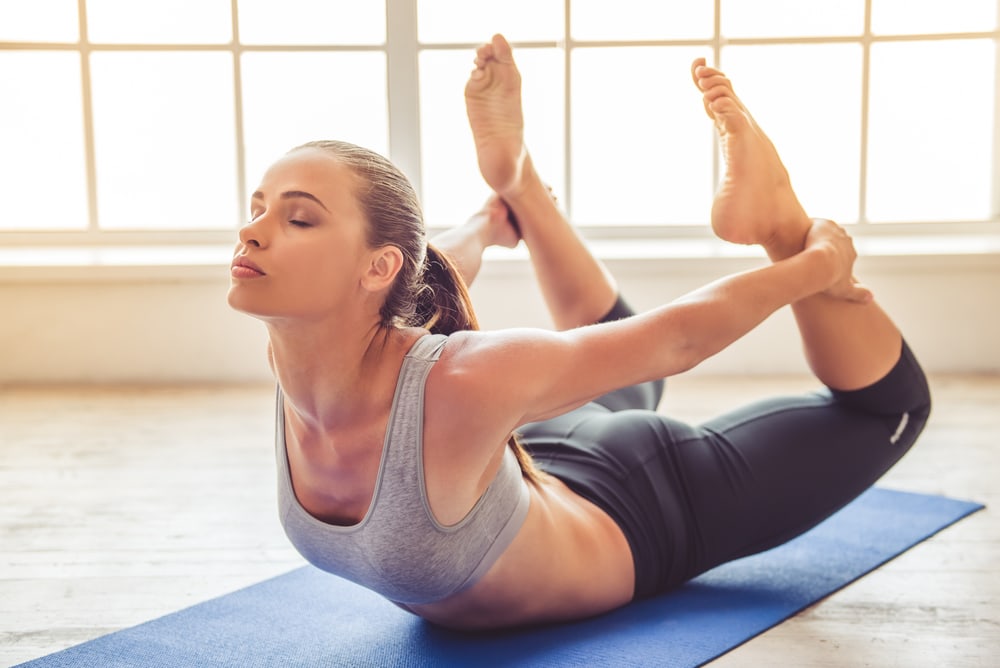 In addition to the standard 24-inch width, you can also find yoga mats with 28 or 30-inch widths.
These wider yoga mats are great for those who want a little more wiggle room for poses on the back of the mat.
Plus, wider mats are great, if you need extra space for poses such as gate pose, or wide legged forward fold, where hands, legs, and feet tend to go off the mat.
This is also a good option if you want more space between you and the person next to you in class since yoga classes can sometimes be jammed pack.
One negative of longer widths is that they will not fit in a regular yoga bag. However, a yoga mat carrier with straps on each side of the rolled yoga mat would work just fine.
Also, if you're taking a yoga class, and the teacher uses the teaching cue, "bring your feet mat-width apart", take notice that you will probably need to move your feet a bit inward from the sides of the mat since your mat is wider than standard.
If you think you'd benefit from a wide, yoga mat, I'd love for you to check out these additional suggestions.
The first I recommend is Prana's highly reviewed, Revolution Mat, which comes in black or indigo, and is 30 inches wide and 78 inches long, perfect for yogis that are also tall.
Secondly, I have to mention that Jade Yoga makes a Fushion XW that is 28 inches long and comes in 71 or 80-inch lengths.
Sorry to sound like a broken record talking about Jade Yoga over and over, but they specialize in making yoga mats, and Jade yoga mats are amazing.
There aren't as many options of wide yoga mats as there are long yoga mats, but if you want a yoga mat over 30 inches wide, there are 36 inch wide mats offered by Yoga Accessories that are low-price.
You should be able to purchase these mats at Dick's Sporting Goods or your favorite sporting goods retailer.  
What Is the Standard Size for a Yoga Mat?
I recommend that you purchase a yoga mat that suits your body type and size. As you see in this article, yoga mats come in a wide selection of styles, colors, thicknesses, materials, and lengths.
While there are no fixed measurements set by yoga professionals, the standard size for a yoga mat is 68 inches long and 24 inches wide.
How Thick Should a Yoga Mat Be?
Thicker yoga mats are not always the best option. Some mats make it quite difficult for you to perform certain techniques, such as the Tree Pose, because of the lack of a firm grip on the floor.
The recommended thickness for a typical yoga mat is about 1/8 of an inch.
However, we don't usually recommend mats that are thicker than 1/4 of an inch. Also, note that if you sweat a lot, we've also written an article on the best no-slip yoga mats.
How Long Does a Yoga Mat Last?
Because of all the stretching, sweating and balancing, your yoga mat is bound to show signs of wear and tear after extended use. The typical lifespan of a yoga mat that's used for regular practice is approximately 6 to 12 months.
However, because practice varies between individuals, it is important to stay on the lookout for signs of wear and tear so that you can get a good replacement in due time.
Is a 6mm Yoga Mat Suitable?
A standard yoga mat measures around 3 to 4 mm in thickness. A 6 mm mat is, therefore, a suitable option. Pilates mats are actually thicker than this but they are also heavy and bulky.
The most important thing to consider when choosing thickness is whether a mat sufficiently protects your body parts from strain or damage. Because 3 to 4 mm is the industry standard, a 6 mm should be suitable for most people.
Do You Have to Have a Mat to Do Yoga?
If you are familiar with yoga and have practiced on other surfaces like grass, sand or on a blanket, you are aware that most postures and techniques require strength and flexibility.
While mats are not required, they are recommended. Yoga mats are sticky, and they have been observed to help create balance and support for yoga poses.
How Do You Clean and Maintain a Yoga Mat?
Cleaning your yoga mat is easy. You can make use of a terry cloth rag or a damp sponge together with a spray bottle to apply a mixture of water and dish soap for cleaning.
You can wipe the soiled parts of your mat with this solution and rinse it off with clean water. You can finally hang your mat outdoors and let it air dry.
What Is the Right Side of a Yoga Mat?
Take a keen look at your mat to determine which side goes up. If your mat has one side that is stickier or more textured, this is typically the side that goes up to prevent your hands and feet from slipping.
Some mats are double-sided meaning they have similar stickiness and texture on both sides. In this case, you can use either side during practice.
What Size Yoga Mat Do I Need?
I hope you found exactly what you were looking for when reading this article. Buying a yoga mat can be a costly investment if you're looking for good quality, and you want to make sure the one you purchase will be the right size.
While I gave you a few yoga brands to choose from, be sure to continue your research if none of them stand out at you.
We all have different taste in products and varying expectations, so it's possible my suggestions aren't for you and that's completely okay.
Mainly, I wanted you to recognize the important factors when looking at the size of the yoga mat so you can make the best decision for yourself.
The yoga mat suggestions were merely just a bonus to help make your search a little easier. Best of luck on making your purchase. My wish is that your first choice is the right one!